Sorry I haven't kept this up to date better, but as of late, work and life have been beating me down relentlessly and leaving me very little time for the things I love. However, I come to you today with an extra-cool blog post: A company/product review! I went to the 2011 Maker Faire in NYC this past weekend, and fell in love with the most delightful etsy company. I spent time talking to the owner, and went home with a bag full of goodies to try. So, in this post, I'm actually able to put my personal stamp of approval behind everything I'm talking about, because I bought it, I own it, I use it, I LOVE IT!!
So I started opening the tester jars and snuffling away at the blends of scents that were refreshingly different, while Jessica was more than helpful to chat and explain and answer all my questions and sometimes overly-enthusiastic gushing. Also, to the left and right of her center stash, were laid out sidelines: Victory Garden, Werewolf, and what I would assume was just Autumnal.
The company is Sideshow Soap Company (For Clean Freaks), run by Jessica Morgan of New York City. So, wandering the giant spread of the Bust Craftacular at Maker Faire, her booth caught my eye because of the packaging. It's all very stark black and white, but the nod to the Victorian stands out clean and crisp and drew me in. Once there, I could see the names: "Freakshow," "Sword Swallower," "Albino Alligator," all with tiny vintage-styled illustrations on the labels and adorable descriptions printed right on the side of every container. This marketing was right up my ally!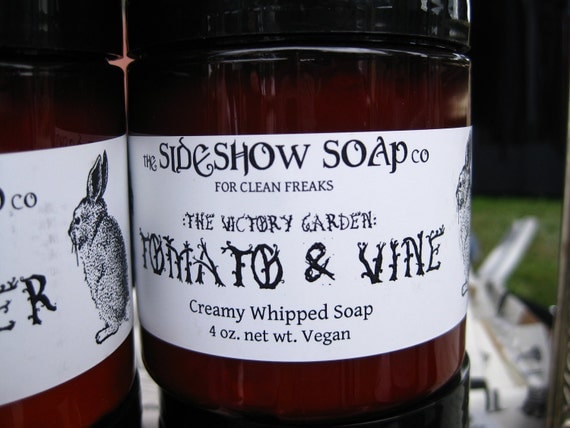 The Victory Garden is a small collection of three scents that were so fresh and realistic as to be truly surprising. Bibb Lettuce, Green Pepper and Tomato & Vine are the three scents available in this side line, marked a little differently by the bramble inspired font on the label. She currently only sells these scents in solid bar soaps and whipped soaps.

The Werewolf line for Halloween takes on a much deeper, woodsier tone in Werewolf, Huntress, Gibbous Moon, Full Moon and Moonflower. Currently only bar soaps are available in her shop of this line; there were others at her table, so there might be more coming in that line, or she might have sold out – I know before the end of the day Saturday, when I was there, she was almost sold out of a couple of things, and still had all of Sunday to cover. I did get a bar of Werewolf, and while I can't use bar soap, I gave it to my fella' with instructions that he was to use it and report back to me in great detail.

From the main Sideshow Line, I picked up their "Sensational Scrub" in both Albino Alligator and Sword Swallower; and a lip balm in stick form.The "Autumnal" line (if it had another name, sorry, I forgot) was another short three scent line called Hearth, Cider Oak, and Pumpkin Seed. The Pumpkin Seed I know sold out because there was only one jar left by the time I found their table! These were available in whipped soap and small lotion pots. I got a small pot of Cider Oak lotion.

So now for product reviews:

I'm going to start with the lip balm because I think it's a funny story. So, I picked out a lip balm I wanted to try: Dragon Lady (asian pear). But, I guess, in my giddiness, I grabbed the wrong tube, because when I went to dig it out later, it said "Carnival" and smelled decidedly of bubblegum. At first, I was really bummed, because I really don't like bubblegum scents or flavors. But I tried it anyway. I love the feel of the lip balm so much, that even though I don't like the scent, I can't help but keep putting it on over and over again. So, while the lip balms aren't up on her website yet, I am definitely stalking and waiting, because I want to get the right one, because if I can't quit using the one I don't like the smell of, I'm going to burn through the one that feels AND smells like I want. Will be perfect for the coming winter to avoid chapped cold lips!!
Next, the Werewolf Soap, as stated above, I cannot use bar soaps, so I passed this one off to the fella. He used it that night and called me to say that he really, thoroughly enjoyed showering with the soap. Said it foamed up quickly and smoothly, had lots of suds, smelled great, and rinsed clean and clear with no residue, either sticky or slick. The smell lingers slightly after the shower, but isn't overpowering in any way, but when I met him hours later, there was still just a ghost of a scent lingering, if I got really close and snuffled for it. He was very enthusiastic about it; and to get a straight male enthusiastic about a bar of soap is quite an accomplishment!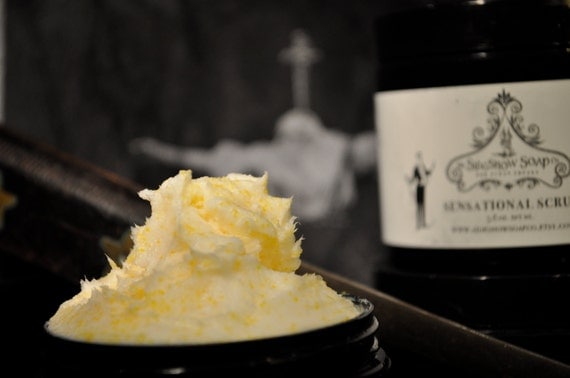 I also had taken my new goodies into the shower almost as soon as I had gotten home and went with the Sword Swallower Sensational Scrub. I got out of the shower and raved to my sister that she HAD to try this stuff next time she was in the shower. I'm in love with their scrubs. It was a beautiful and exotic mix of ginger tea and coconut milk, it was smooth and silk and foamed just a bit into a light lather that I just kept wanting to rub in. Did NOT want to rinse off, it felt so good! And the tiny jojoba beads gave just enough scrub to brighten up the skin a bit. Cannot wait to use the Albino Alligator, as that's her "southern belle scent" she said, and well, I am a Southern belle in NYC! She may have made me a convert off of shower gels. . .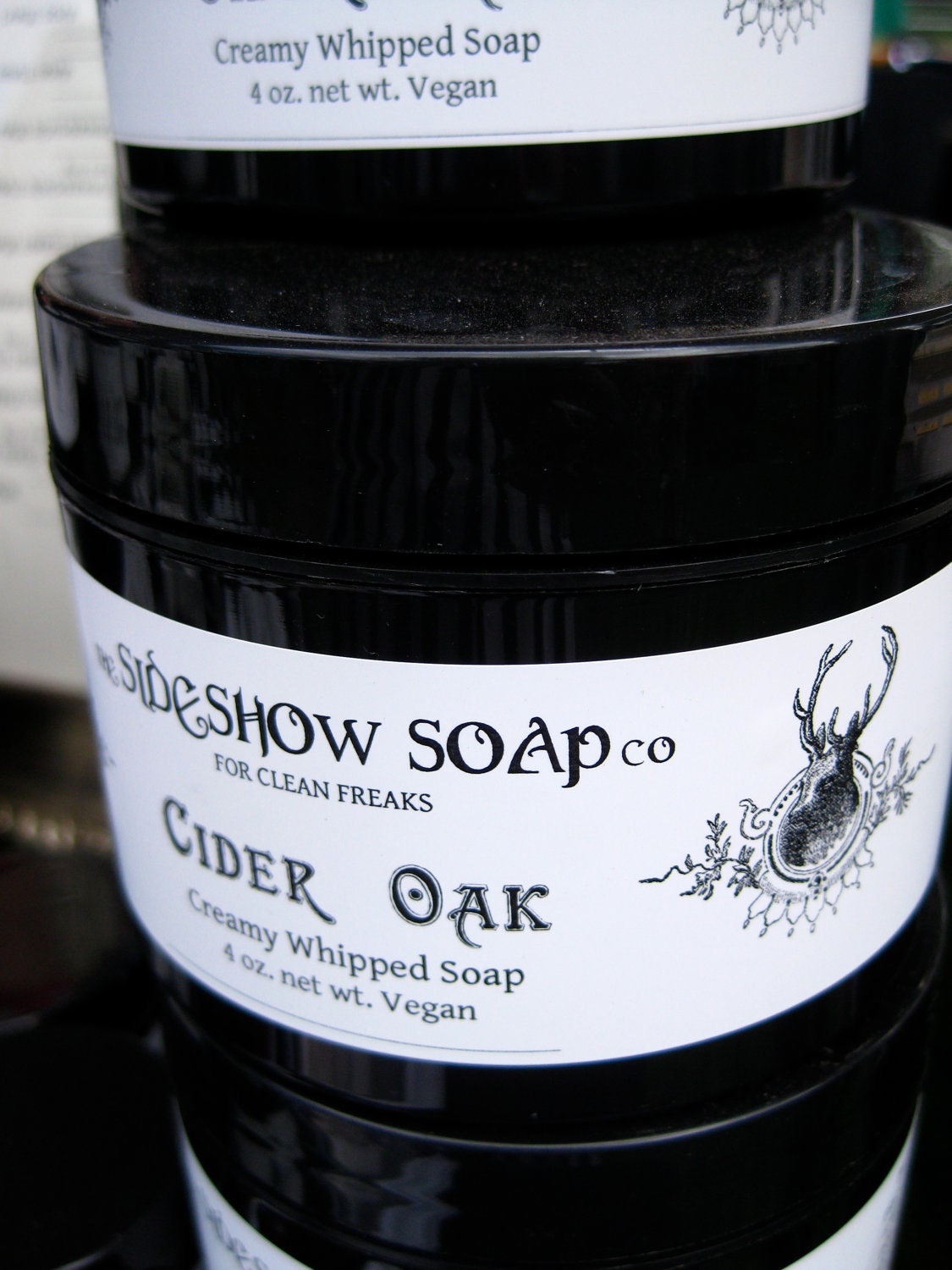 And lastly, the Cider Oak lotion. I almost didn't want to put any on after I got out of the shower, my skin already felt so soft and moisturized, but I wanted to try everything. It goes on smooth, (a little goes a long way with all of her products, it seems! These things are going to last, even if I use them all the time! Great!!) and it has a clean, not greasy, not heavy at all, but moisturizing light feel. Dries quickly, and the smell LASTS. I put more on this morning before I went to work and it's 5 hours later and I can still sniff my arm whenever I need a bit of a mood pick-me-up for a little on-the-spot aromatherapy.
In short: Elf Need MORE! And highly suggests everyone go and visit her shop, read the descriptions and order it yourself! She even does sell sample sizes of the body scrub, which I cannot rave about enough. If you get anything, get a trial size of one of her Sensational Scrubs and try it yourself and see if you just won't be hooked!