Spring is starting to creep in, a little sporadically, here in NYC and so I've been spending a lot of my spare time working in the garden and getting it ready. I hope to plant my first early seeds next weekend.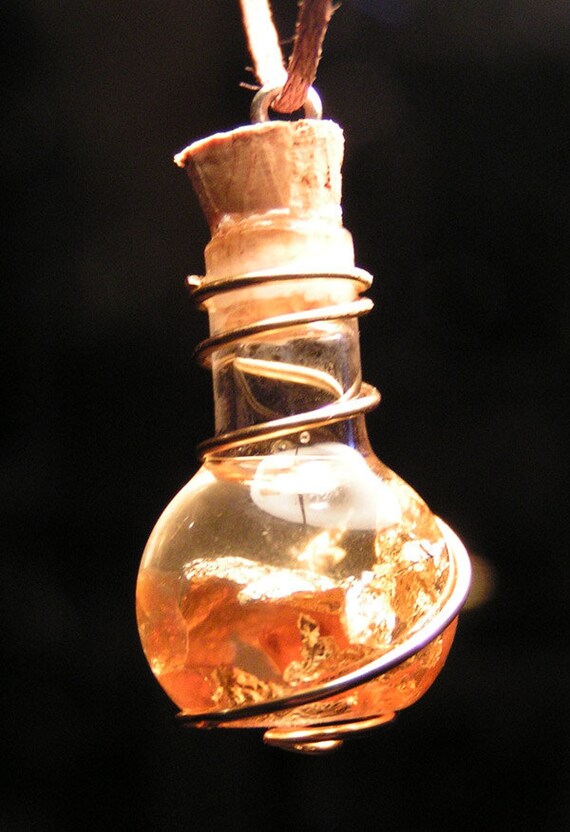 So, my blog posts may be a little more sparse or short unless it falls on a rainy day. :-) I did think I would share one of my later experiments with Magic Vials. This one is called Golden Sun, contains orange fire opal and 24K gold flake. This was my first time using gold flake, so the pendant is filled with the same "packing fluid" the gold flake came in - and no plant parts, just in case. It's obviously some kind of alcohol base, which creates an interesting difference in how this vial moves, instead of a slow, sluggish move through oil, this seems to have a lot more active movement through the

thin alcohol.
I really like how the gold flake pairs with certain gemstones, though, and am having fun with both it and the pure silver flake I got as well.
~*~*~*~*~*~*~*~*~*~*~*~*~*~*~
Surprisingly, there's almost 6,000 entries when you search "24K gold" on etsy. Now, a lot of that is going to be painted or overlaid or plated on top of other metals, but at the top end, there are actually some solid gold pieces. I admit, I'm entirely too hard on my jewelry, even if I won the lottery, I don't think I'd buy pure 24K gold items, they'd be so soft you could ruin them just by wearing them. Then again, normally, when it comes to jewelry, I'm much more a silver or white gold fan, but I was curious to see what was out there in the sunnier spectrum.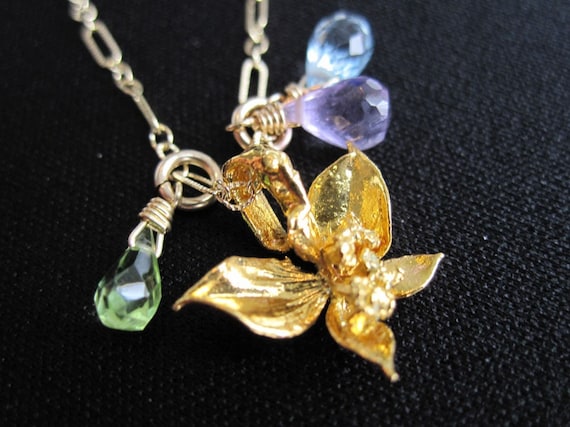 My favorite is this real, tiny, miniature orchid that's been dipped in 24K gold and then made into a pendant. It's flanked with 3 briloettes of blue topaz, amethyst, peridot. The flower is a delicate .5" long on a 16.5" chain.
This is the only piece at
JewelryOD
of this nature, with the real flower dipped in gold, but there are lots of other pieces that have a beautiful array of gemstones. Pieces start at a very affordable $14.99 (for crystal, not gemstone).