This past weekend was the Steampunk World's Fair, and my first time to ever vend at a "Con." It was a great experience, and very different from selling at street fairs and craft fairs. The patrons definitely had different tastes. I came very close to selling out of my Magic Vial Pendants (and did sell out of all of the bulb-bottom ones), and almost all of my From Faerie bath line. So, right now I'm in the process of restocking and ordering more raw supplies.
There are a couple of new things at the etsy shop because of SPWF. First, I had made Voynich Manuscript inspired pendants, made out of wood in a more rustic medieval style (as suits a 15th century mysterious manuscript, I thought).
I really enjoyed handing out little flyers to people on the Voynich Manuscript and encouraged folks to go google it and read up on this indecipherable codex. (Seriously, open a tab, do a search, it's so entertaining!) And so, I have a couple of those left over.
Also, waited until I could go out and do a proper live photo shoot with a model friend of mine to get better shots of my Sterling and Velvet - Victorian Gothic Choker. That's her, here, and of course, bigger, better resolution shots on the actual listing. So, thanks to
Ms. Abigail Neffer LeMorte
. Also, she'll be moving to Seattle, WA this June, so if any of you are out there, and need a model, I highly recommend her (hey, she's even been shot for Japan's Vogue Magazine!)
Will miss you when you go all west-coast, chicky!!
~*~*~*~*~*~*~*~*~*~*~*~*~*~*~*~*~
Yes, there are fairy wings, and yes, they are awesome, but what caught my eye was something a lot more out of the ordinary.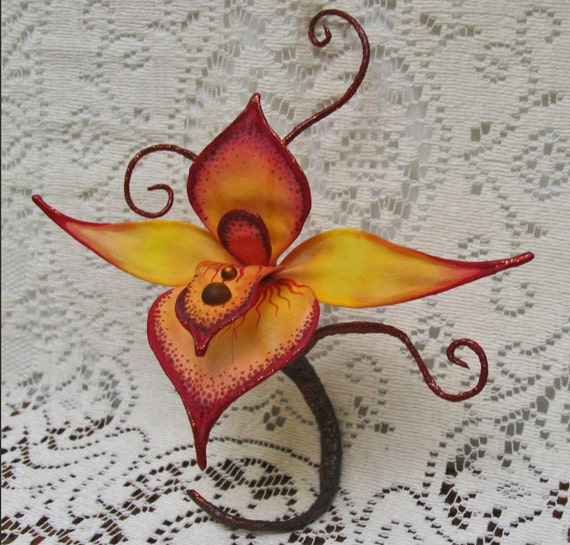 The "hair wear" section has a collection of truly alien looking sculptural orchids for hat or hair. They are hand-painted, hand sculpted, and flexible enough to allow for you to do a bit of your own minor adjustments to make sure it lays just right, whether perched in a bun, tucked behind an ear, lolling in a hatband, or pinned on your lapel. The colors used are vibrant and almost seem luminous.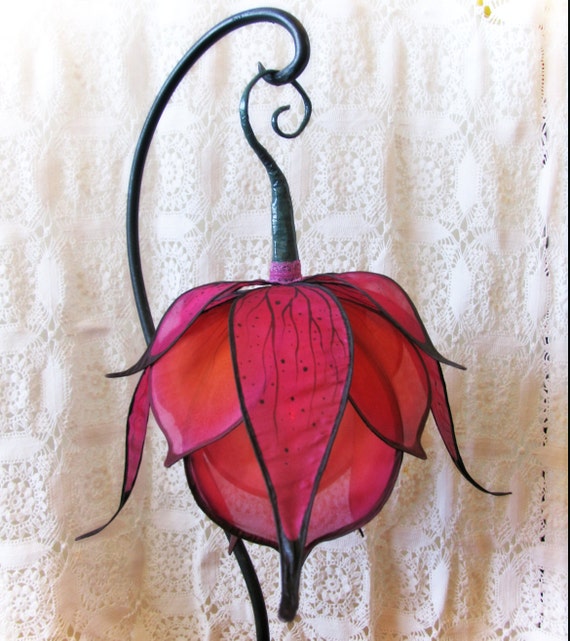 And, the other item she makes that first caught my attention really ARE luminous. The flower lights are similarly fashioned and shaped, but inside their petals hide battery powered LEDs. This fuscia one here, is a favorite! I love fuscias, but they have never loved anywhere where I have lived. I spent some time in Seattle years ago, and was struck by the fuscias there. This is a gorgeous nod to the flower (and would love to see this same style in various colors, the way fuscias come in so many combinations).
That's not even all of what you'll find over at her etsy shop - there's more to explore, and I highly recommend taking a few moments to pop over.