That's right! I found my first flowers of the spring! And, just like last year, I made a pendant just to specially commemorate that first flower. Last year, it was a purple crocus (seen in the avatar I use on etsy.) This year, it was a yellow forsythia!
So, here I present, Magic Vial Pendant - First Flower 2009!
This vial starts with the last of my
Yellow Sapphires
for good fortune, wisdom and prosperity; and pale pink
Kunzite
for peace, love and trust. These are blended together in a neutral oil base with petals of
Forsythia
for innocence and anticipation.
This vial is finished in 14K gold-filled wire (vedic teachings say that yellow sapphires, an auspicious stone, should always be set in gold), sealed with a glued-in cork and hung on a brown cotton slide cord.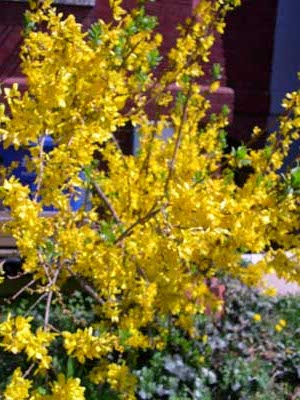 For those not familiar, the picture to the left is a Forsythia shrub. I'm sure you've all seen one before; they grow all over the place.
This marks the beginning of spring for me, and all the possibilities as plants begin to grow and bloom and lend another season of colorful variety to my Magic Vial Pendants.
According to a few readings I've been doing, I still need to wait another good month before I start re-planting my garden. And that's just fine with me, because I have *absolutely NO money* for the garden right now.
~*~*~*~*~*~*~*~*~*~*~*~*~*~*~*~*~
I'm far from the first person to have their thoughts turned to the first flowers of spring. There's several pages of all kinds of art under "first flower spring" search on Etsy. However, I found a particular artist who's craft seemed to fit just perfect!
Botanical Creations
has a variety of door pulls, cabinet knobs and jewelry made from pressed flowers sealed under glass. The one that caught my eye was "New York first flowers of spring," and it's a purple crocus!
This piece is a door pull/door knob just a bit bigger than a quarter. Comes ready to mount, includes the screw!
And if the purple crocus isn't your thing, the shop has a whole lot of other flowers, singles and groups, all pressed and ready to adorn you or your home.