First, before I get to the meat of my post, I want to just post a small update for
Izile's Oddities
, during the last few days of the "Love2" coupon code sale for 20% off all items at Izile's!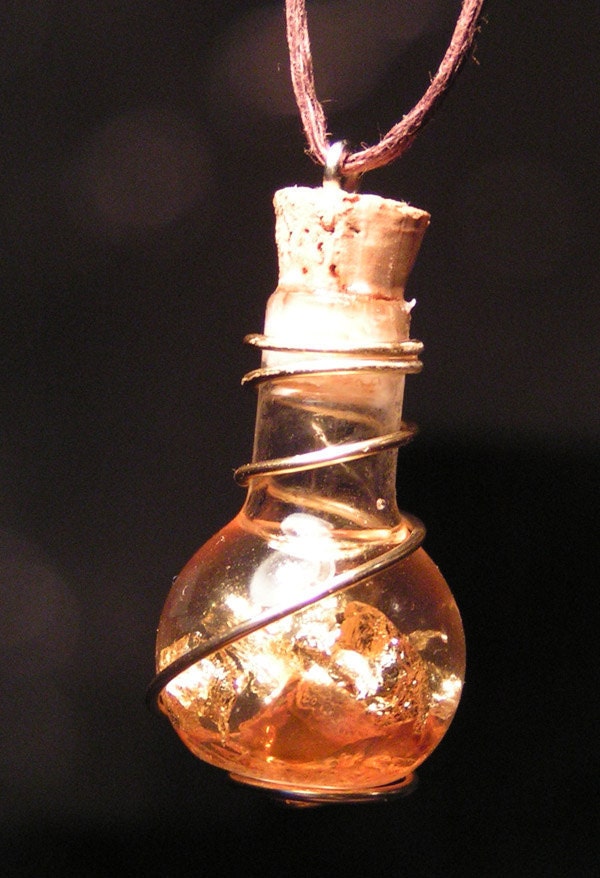 I went to go see one of my "gem guys" in the city to fill a custom order I was building, and while there, I asked him about a new supply he had of pure flaked gold and silver. He didn't know much about them, so let me have a deal on one of each so I could experiment. So, I've started a very limited run of Magic Vial jewelry that is experimenting with both precious metal flakes.
At left we have "Gold Sun" which is 24K gold flake with jelly fire opal.
And at right, a pair of earrings (I know I don't make many) with pure silver flake and herkimer diamonds (one each).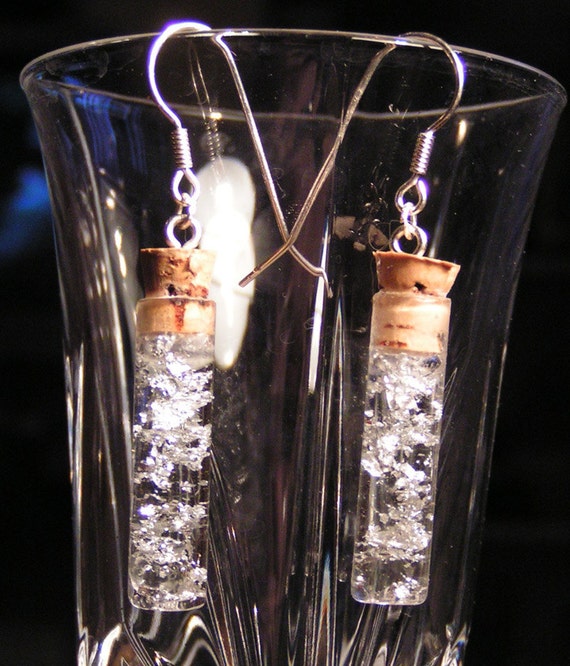 Right now, both are bottled in the same fluids they were packed in, not my normal all natural oil. Next will be to take small amounts of the flakes and see how they last in my normal oil base. (The gold isn't kept in oil at all, it was some form of alcohol; and I'm assuming the oil the silver was packaged in was mineral oil.) If both react OK to my normal oil, then I can start incorporating them in my normal Magic Vials which also contain herbs and flowers as well as more gemstones.
~*~*~*~*~*~*~*~*~*~*~*~*~*~*~*~
Now! On to the review! So, just last week I blogged about
Vengeance is Sweet
and their marshmallows. Well, the owner was kind enough to send me some as a thank you and they were more amazing than I could have guessed! I got a package of the Love Potion mini marshmallows with strawberry puree and X-Rated Fusion Liqueur. They didn't taste "alcoholic" with a very strong bite, but at the same time, the distinctive flavor of X-Rated was clearly present. I also liked the occasion pop of a real strawberry seed. They are *big* bags, and are made when you order, shipped flat-rate priority to get there ASAP, and it is totally worth the S&H. Last night I took the bag with me to a birthday party for a friend and passed them around, even gave one to the bartender and a few curious strangers after explaining how to find her on etsy. Everyone was really surprised! Many people had never had a real, fresh, marshmallow, only the stale dry ones you buy at the grocery store, and they were really shocked to taste and feel the difference! Eyes also got kind of large when I mentioned that these were her "mini-mallows" because they are still really nicely sized cubes. You could probably fit one in your mug of hot cocoa if you have a big mug.
I will note, if you haven't devoured them all in a few days, they do start to get a little sticky with lots of contact with humid air (we're very humid right now in NYC). But this is in no way unpleasant, or damages the flavor or texture. Just a note to not be surprised if the nice dry finish they come with doesn't last more than 4-5 days. After all, these are fresh, handmade and do not contain chemicals and preservatives like the big white round ones that would last after the nuclear holocaust.
Oh, and her 10% off coupon is also still running!!
~*~*~*~*~*~*~*~*~*~*~*~*~*~*~
Now, since I already blogged about
Vengeance is Sweet
once, I do feel like I need to plug yet another etsy seller to keep up with my promise that I'll promote a different and new etsy seller with every blog post I make. But that's a hard act to follow, so I actually went and looked at the favorites list of
Vengeance is Sweet
to see who they had listed on their favorites list. Well, the favorites are private, so I went to look at their circles instead. It's a kinda similar concept.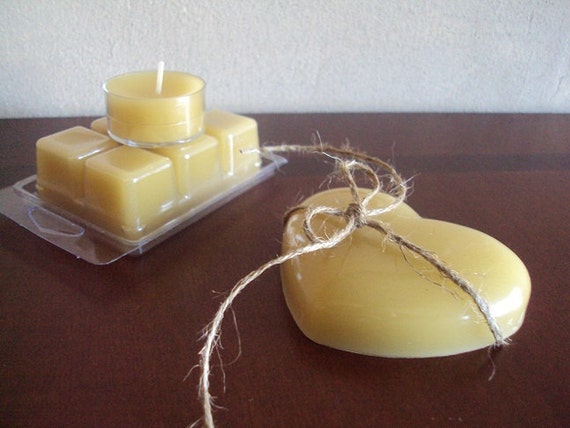 And I found
Moni Candles
! I love the "rusty shabby chic" as she puts it in her description, and natural beeswax and soy options are always a bonus! But, the all natural beeswax is always a favorite of mine, I love the fact they're dye free and have a natural scent of light, warm honey. She also has these really lovely kind of wide shallow bowl shaped candles that look absolutely lovely with a wide variety of colors and scents in soy wax. Definitely worth the time for a quick browse!