So, my sale is over and so is the contest. I used
This Random Thing
Generator to select the winner, which was SouthernGothicBeauty. So, she will soon be receiving a free gift from Izile's Oddities! (I won't post what it is until she gets it. I want it to be a surprise!)
Hope you all had a Happy Valentine's Day. My sister and I agreed that Astor Center's Annual Bourbon and Bacon Expo would become an annual event for both of us as well. It was an amazing night of artisanal varieties of bacon, as well as bourbon and lots of great treats on that theme! I really enjoyed the bourbon caramel popcorn with bacon bits, the Manhattan flavored dark chocolate truffles and salted bacon caramel chews, and the Makers Mark sponsored cocktails, favorite being the Kentucky Kiss made with Frangoli liqueur, Makers Mark bourbon and Cava (a sparkling Spanish wine). Think my favorite company for just straight bourbon was Four Roses, though.

~*~*~*~*~*~*~*~*~*~*~*~*~*~
Lots of people doing lots of creative cooking with bacon and bourbon these days. Wonder what etsy has in that realm?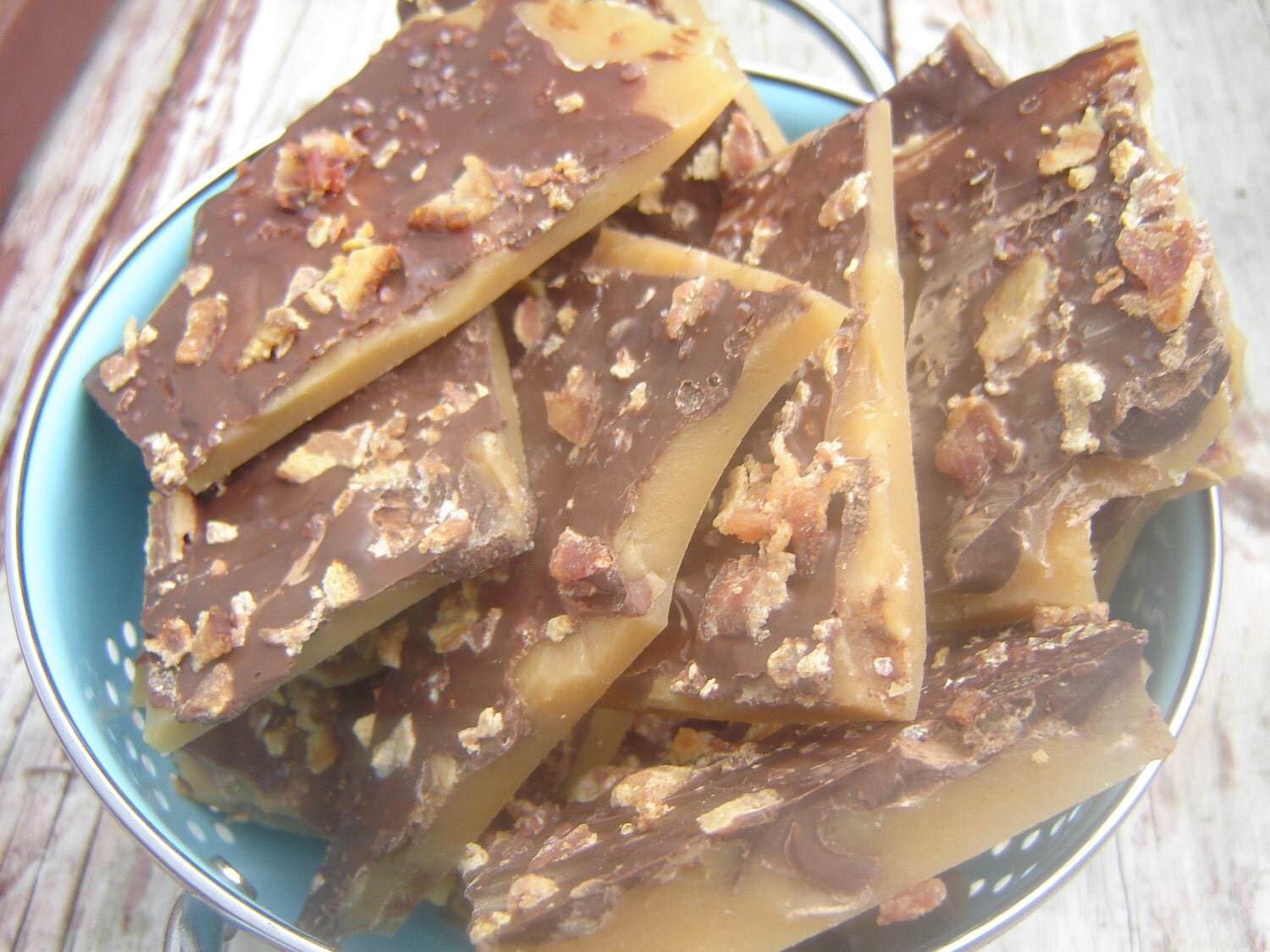 Well, not a lot, but
Mmmallows
has a couple of entries! Pictured here is her "Party Animal Toffee" made with bourbon toffee, milk chocolate, applewood smoked bacon and alder smoked salt! Yeowza! There is also a pecan brittle variation without chocolate called "Breakfast of Champions." I dig the names.
I'm a bit bourbon-ed and bacon-ed out (for now) after last night, but I highly suggest trying it out. I would not have thought the flavors would have worked so beautifully together with chocolate and other similar sweet/salty confections, but it's a real winning combination!!