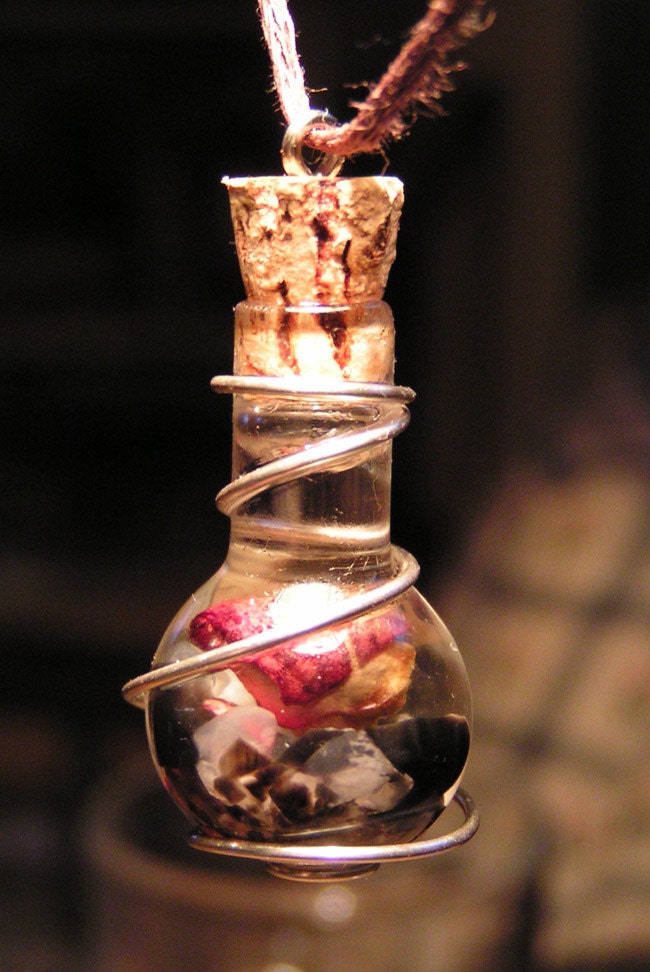 Just bumping my sale. Remember, purchases made between now and Valentine's Day with Coupon Code "Love2" not only receive 20% off your entire order, but you get entered into a drawing for a free gift!!
I've also added a few more Magic Vial Pendants to the shop over the weekend, including another Snow White pendant (as they seem to be fairly popular.) Here is a photo of the latest one, but as always remains a blend of Snow Quartz, Black Onyx, one red Ruby and a red Rosebud in Sterling Silver wire.
And also remember, with the discount, From Faerie bath salts are now only $8.00 a bottle! And smaller items like mini prints, storm water and lolly pop hair sticks are now only $4.00!
~*~*~*~*~*~*~*~*~*~*~*~*~*~*~

Lots of other etsy sellers are also trying to help out with Valentine's sales on their shops. It's a good time to put a little more thought and effort into your V-day gift giving by shopping etsy and finding something unique and personable, instead of the same old heart-shaped box of generic candies that's been around for the past 50+ years.
Don't get me wrong, I'm not begrudging the sugar or the chocolate! But you can show a little more care and thought by buying away from the big box stores and giant corporations.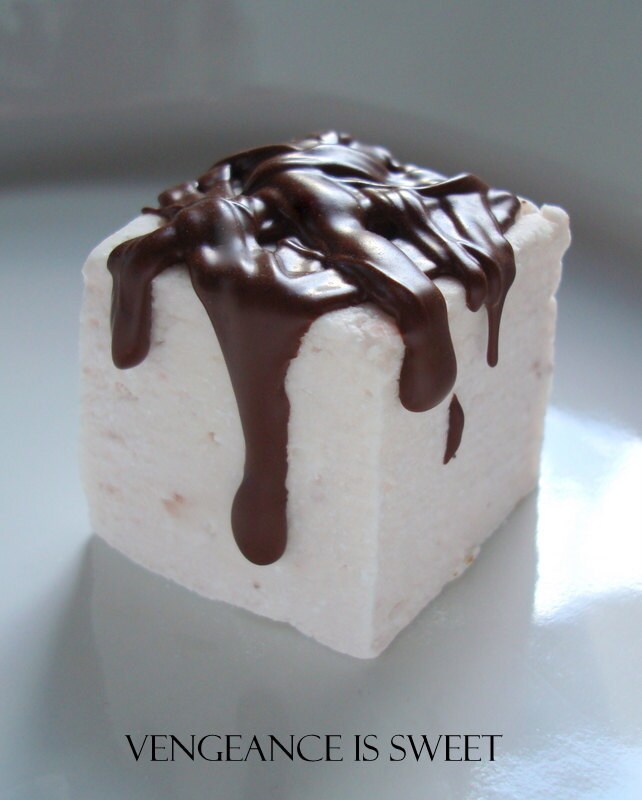 Vengeance is Sweet
is running a whammy of a sale for Valentine's day confections! Order early and get 10% off with Coupon Code "BEMINE". And oh Mamma! Some of her treats! I have never cared for regular, stale, flavorless, store-bought marshmallows; but the homemade ones are divine! I am also a sucker for anyone who spikes their confections!
The "Love Potion" Marshmallows are a blend of strawberry puree and X-Rated Liqueur. (For those of you who don't know, X-Rated is a bit of a dangerous liqueur for me. It's neon pink, which is generally a bad sign when it comes to alcoholic beverages, but it is vodka blended with mango, blood orange and passion fruit, and throwing a shot of it into almost anything is girly-drink heaven!) She also has Mimosa, Chocolate Martini, Kahlua and Cream, and shown here, Chocolate covered Strawberry and Champagne!!
I'm just going to go over here and have a little cry for a moment and hope I get a lunch break soon. You go and look at the rest of her stuff. Try and keep the drool off the keyboard, if you can.