Wowzers! I was just doing some calculations, and for such a short month, February is awful expensive! Of course, it doesn't help that my .com and hosting are expiring in a couple of weeks. SO, to help me pay for my website hosting, and maybe even help take the edge off some of the other February expenses, I've made a new Coupon Code on etsy for
Izile's Oddities!
If you'd "love to" get something from my shop for a friend, loved one, or even yourself, all you have to do is enter, "Love2" into the coupon code at checkout on etsy and get 20% off your entire order! This way, it also helps your dollar go a little bit further - as I'm sure I'm not the only one with things a little tight at the moment.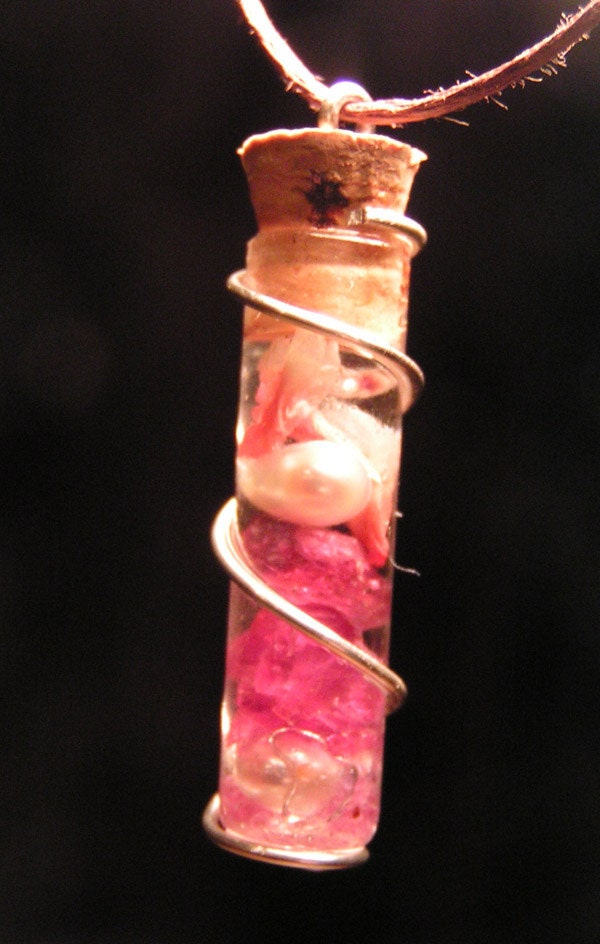 For example, my latest variation of "Lil Love" Pendant shown at left, made with real freshwater pearls, genuine rubies and jasmine petals in Sterling Silver wire wrap is now reduced to $9.60! Genuine rubies and sterling silver for under $10! (not counting S&H).
I also still have the sample size of the Leanan Sidhe bath hearts, though the full sized jar has sold out. But I do still have both Unseelie and Stardust From Faerie bath salts available.
I am still doing custom orders as well, though please note, I will not be extended the 20% off sale to any custom pieces. And, I hope to have even more new items up on Thursday! Which, of course, will immediately go on sale as long as the "Love2" Coupon stays in effect!
EDITED TO ADD: I've just decide to add an extra little incentive. Everyone who makes a purchase using the "Love2" Coupon Code will automatically be entered into a drawing for a free ... OK, I'm not entirely sure yet. I need to go home and check my bits. But you'll get a gift, completely free, and totally cool, from Izile's Oddities!
~*~*~*~*~*~*~*~*~*~*~*~*~*~
I had mentioned in an earlier blog post that one of the things I'm trying to afford is going out with my sister, and maybe another femme-friend to a Bourbon and Bacon tasting on V-day. So, that's my theme for searching on etsy: "Bourbon."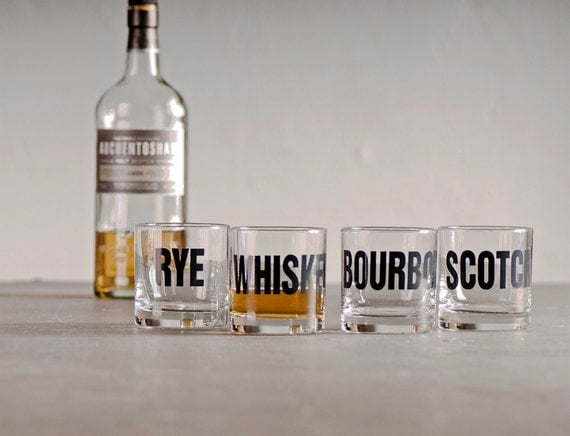 There are some very interesting results that come up under "Bourbon," but I think my favorite today is
Vital
, which besides having a variety of bike themed screen printed shirts and glasses, also has glasses specified by alcohol type. You can buy a set of 4 lowball glasses, each stating "Rye," "Whiskey," "Scotch," or "Bourbon." (Shown right) You can also get "Gin," and "Vodka" collins glasses; or pint glasses that read, "Kriek," "Wit," "Saison," "Triple," "Homebrew," "Wheat," "Porter," "Lager," and so on. There are many more graphic print styles of glasses, and tons of tshirts, hoodies, and even onesies. Plenty to take a browse through!