Oh, it's March, and it's nasty and wet and NYC still hasn't seen a decent snow yet. You'd think that'd make me happy, not being very cold tolerant. But, I garden, and if there's not a good freeze that lasts so many hours, then we can expect hellacious mosquitoes this summer; and that no es bueno.
So, in order to get them in on time, I already put in my first order for seeds for my garden, mostly just the early greens, you can't put much out in April this far north.
~*~*~*~*~*~*~*~*~*~*~*~*~*~*~
But that's where my head is these days, the hopeful garden to come. And what I decided to search on etsy.
There are some nice compost pots on there, and my Mom always composted, and I wanted to. . . but when my landlord found out she was very adamant that I could only compost if I agreed to take it out in the trash. I don't think she understood the concept. Urban gardening can be a little tricky.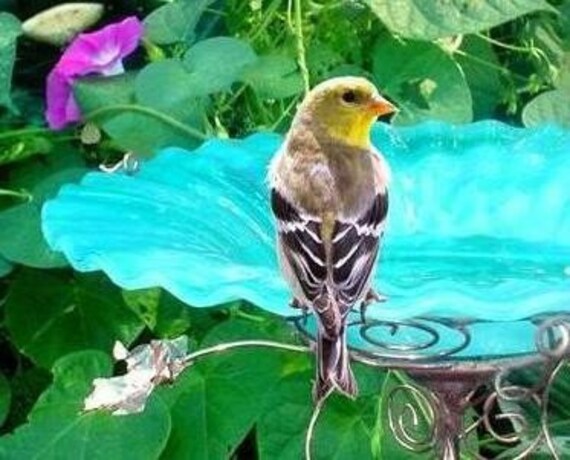 Oh, if I had the space and the money, I'd go for something from
Gloria's Glass Garden
. These are more the kind of items you'd find in my mother's huge sprawling garden back home in rural Mississippi. One of her colorful bird bathes is pictured here.
She also makes butterfly feeders, hummingbird feeders; and the bird bathes come in 3 different sizes. The colors are absolutely gorgeous and vibrant! Beautiful pieces, even just for decoration. I think it's a great piece for the country; but with the local population or rats, squirrels and pigeons - all things I'd rather keep out of my garden - maybe not so great for the big city gardener.
Unfortunately, there's just not a lot out there for the urban gardener, unless you want to just give up and have a terrarium inside. Not for me. I'm determined to have herbs, and tomatoes and eggplants and peppers! Ahh well, those of us will just have to keep on experimenting until we figure it out ourselves, I guess.