Surprise! Quick little pop in to give a heads up on goings-on re: Izile's Oddities. Took a small trip a week or so ago back to Mississippi to visit family. My Mom has two enormous gardenia bushes that were in full flower. They smelled so strong I got the idea to see what would happen if I buried them in kosher salt, like I've done with roses and pink salt for From Faerie in the past. I wasn't there long enough to let the gardenias fully absorb, and the salts are probably way too heavy to have shipped back to me - which is a pity. I tested them after 1 week, and the smelled great, dry; however, when I added a little honey and some oils to take a bath, the scent didn't manage to stand up. It hadn't really set long enough. But man they smelled good! I told Mom how much longer they probably needed to sit, and how to make her own little scrub when she wanted to try them. It's a pity I can't get that supply of flowers up here! That would have been an amazing From Faerie scrub!!
Speaking of From Faerie, yes, still nothing new, because my garden is STILL very much stunted. It is finally starting to get warm and sunny up in NYC, but I'm afraid the long, wet/cold faux-spring that drug on forever has stunted things and delayed any ideas of new herbal goodies until maybe July. :-(
On the other hand, something new did come out of my trip back home. My folks took me out to a really rural country auction. I've never been to a real auction before, so I thought it would be interesting. There were lots of antique furniture, primitive tools (mostly axes and saws), old pottery . . . and two beautiful trays of cut, faceted gemstones. There was a bit of a bidding war early on, but I was determined, and I won! And I won them remarkably cheap! (well, cheap considering how much the stones would retail for in NYC). Granted, upon close inspection, there were some reasons why these stones ended up in an auction. A few of them are chipped or nicked, some of them are kind of pale in color, or are an undesirable shade for a really high quality piece (there's a peridot in there that's very apple green - I think it's lovely! - but yeah, not normal "peridot" green, and it doesn't have a single match anywhere in the tray), and very few are identical enough to be matched into sets.
However, that's fine by me! I normally use raw gemstones (because I find the quality of chip beads suspect at best), but faceted gemstones I have nothing against, they've normally just been too expensive to be practical! But now, I've got enough to at least play with and try out in a few things.
1) There will be at least a few Magic Vial Pendants that will be made with only cut/faceted gemstones. These will include, at least in part, gems that have nicks, chips, deep scratches, etc; that would make them unsuitable for setting in conventional jewelry. I ran a poll over on my DeviantArt blog and most people said they would like to see me do the vials the exact same way (with oil and herbs) but using the faceted gems (the other alternatives were a gemstones only, no-oil, dry vial; and a no-oil, dry vial that contained gemstones and dried herbs (this was the last popular choice).
2) I've been doing some reading - OK, a LOT of reading - and you should expect some more conventional jewelry to be coming out of Izile's Oddities in the future. I will probably be starting with Sterling Silver pieces, likely the cabochon gems in gallery or bezel settings. I will endeavor to try and find a way to still make them as unique as everything I do at Izile's Oddities; but especially early on, it's a learning process, and there may be some very plain, standard, stud earrings to start off. But, I hope as I learn and my skill grows that I will be able to make truly original and beautiful magically inspired pieces of jewelry with cut gemstones. (And yes, I know a couple of "real" jewelers, so I'm not going blindly out on my own with no guidance but the written word)
3) Some of the gemstones *may* end up for sale as supplies in my etsy shop.
And, I think that's it!
I had a lot to say for a post long time coming!
Hope I'll have more to update you on in the coming month(s)
~*~*~*~*~*~*~*~*~*~*~*~*~*~*~*~*~*~*~
Completely unrelated! The plug of the day:
Well, not entirely unrelated, did a search for gardenia bath & body products on etsy.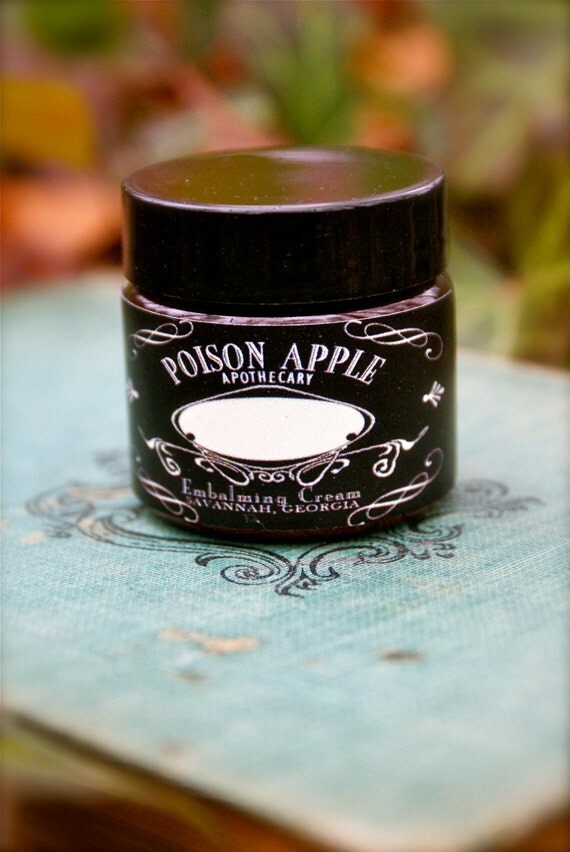 and I found
The Poison Apple Apothecary
. The packaging and the name immediately grabbed my attention. Made in Savannah, Georgia - well, that's another plus for me! This person will KNOW what good gardenias should smell like. The ingredients sound good, sample jars available, and over 7 pages of products.
Oh my, I'm going to spend the rest of the day looking at her shop. Must. Wait. For. Next. Paycheck.
I suggest you go take a gander, yourself.
EDIT: (maybe 10 minutes later) OK, so I have to go on lunch - but I am so caving and putting in an order when I get back. The Alice in Wonderland series is too tempting!!! And the sample sizes of "Embalming Cream" is super reasonable at $2.25 for 1/4th oz or $5.00 for 1.2 oz!!