October's always a busy month, it seems. New York Comic Con is this weekend, and have family coming into town, and of course, Halloween. A bit of my stock is still spending the pre-holiday season at
Gothic Renaissance
just south of Union Square here in NYC. If you live or are visiting in the area, now is a great (but busy) time to hit G.R., not only can you see some of my hand-painted Venetian masks, my OOAK velvet choker done all in real sterling silver, onyx and garnets, but a few of my Magic Vial Pendants as well (outfitted with adjustable sterling silver chains, just for the brick-and-mortar location!); but they have an amazing array of corsets, other masks in classic Venetian style, leather and laser carved, and tons of clothes and accessories for goths and steampunks and people just wanting that little extra special detail for a certain costume.
I have recently also added a few more traditional pieces to the etsy shop, including a couple of rings. I can't exactly link to my favorite new ring, because it's not on my etsy, and I'm not entirely sure I'm going to put it on etsy. I might just keep it! Something about the pink beryl I used, with the beautiful scar right through the heart of it; it just speaks to me!
However, a second favorite that is in the shop for sale is a piece that blends the more traditional look with the meaning and intent of my Magic Vial pendants. The ring is for communication (called "Speak to Me"), and the gemstones used were selected to help amplify and smooth out communication issues for the wearer. This piece is shown here at left, Malachite and Opal in Sterling Silver in a band size 8. More information on the stones meanings and more photos are in the listing on etsy. Lots of photos because opal can be a tricky stone to photograph. (Just click on the photo and you should go to the listing)
~*~*~*~*~*~*~*~*~*~*~*~*~*~*~*~*~*~*~*~
I haven't plugged a fellow FAE (Fantasy Artists of Etsy) member in a while, and October is always a great month for the fairies and spirits and whathaveyou. It does, however, get tricky to remember exactly which shops have been plugged in the past and which haven't. So, if I double up, sorry, I'm trying to do someone new and different every time, but I hadn't exactly thought about how long I'd be doing this when I started.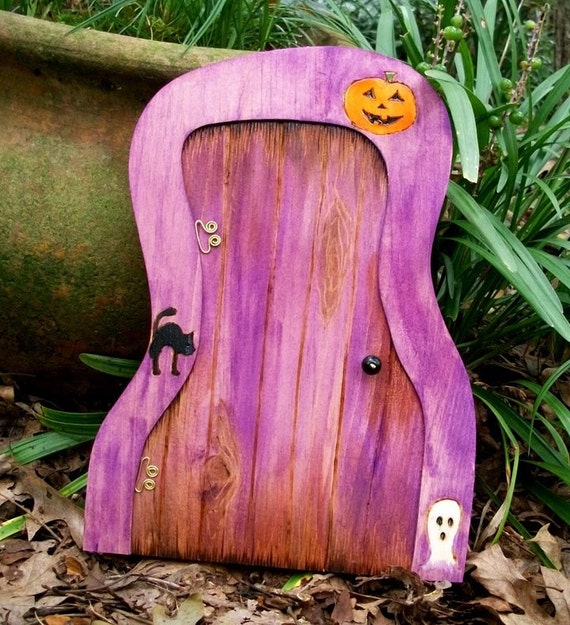 Loving Lee Crafted
makes one of my favorite fantasy items, fairy doors and fairy houses. Hers are made out of wood and each shaped and decorated very uniquely. Since we're nearing Halloween, pictured at right is her Halloween Magic Door, decorated with a black cat, a ghost and a jack-o'-lantern. They are sealed with 2 coats of polyurethane so they work outdoors in your garden as well as against the baseboard in your house. (My little polymer clay gnome door is braced against the wall on a 2" ledge in the middle of my stairwell. I love putting them in quirky, unexpected places where people will see them in passing and go "what the. . .??")
There's plenty of variety in the pages of her shop, including doors that lead into little stump and log houses; even a few with magnets to go on fridges or other magnetic surfaces. Bring a little whimsy and magic into your home, invite the fae in with their own door!