No, not exactly getting an early jump on Valentine's day. It just so happened that my vial supplier had a few new styles. I only bought a couple of 1 new style, figured I'd try them out slowly; after all, business isn't exactly booming for anyone outside of the top 1% these days.
But, I did get some heart-shaped vials. I made a Heart of Love, with rose quartz, a little ruby and a red rosebud; and Heart of Creativity, with garnet, opal and a red rosebud. The 2nd one seems to be the most popular (going by favs on etsy and on deviantart), so it is shown here at left. These new vials don't have loops in the corks, so a bail is on the back of the vial, formed out of (in this case) brass wire. (the other pendant is sterling silver). So, hopefully these will go over well!
I also have some more sterling silver being shipped in and hope to have a few more traditional pieces in shop in the next couple of weeks. I'm finally going to attempt the dreaded task of setting opals (they are very soft on the Mohs' scale and easy to accidentally scratch of break when setting, so, I'm a little nervous!)
~*~*~*~*~*~*~*~*~*~*~*~*~*~*~
As for today's plug, I know I've plugged
Black Phoenix Alchemy Lab
before (they do have an etsy shop as well as their own website!) But I don't think I've ever plugged the
Black Phoenix Trading Post etsy shop
before. And today, they've been listing t-shirts left over from years and years of full moon designs.
See, every full moon, Black Phoenix makes a perfume to commemorate that full moon, whether it's Strawberry Moon, or Dragon Moon, or Moon of Small Spirits, or whathaveyou; and to go along with that, the Trading Post prints up a companion t-shirt. These are only sold for about 3 days a month. So, the chance to go back and look for your favorite missed opportunity is a really nice touch!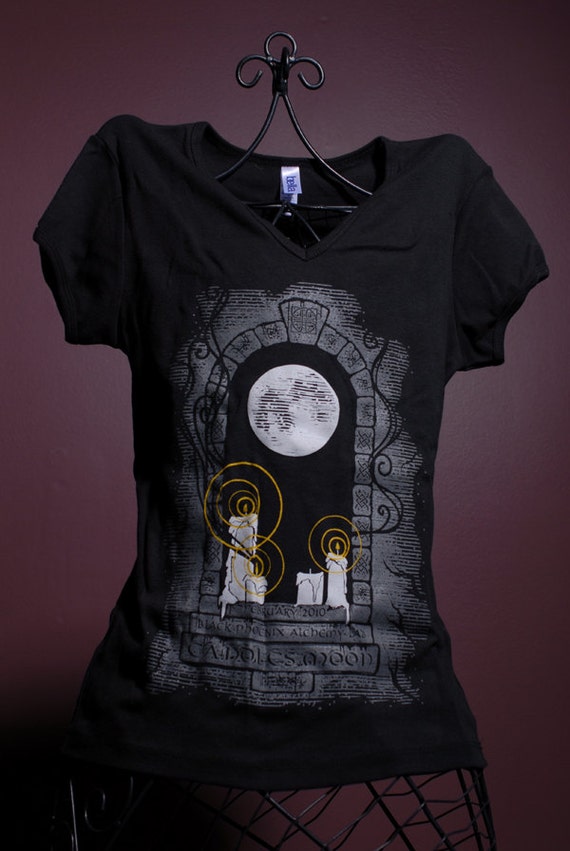 Shown here at right is their Candles Moon t-shirt from February 2010. I actually bought this one back at the time, and it is one of my favorite t-shirts! Currently the etsy shop has only put up the babydoll style v-neck t-shirts (the base shirts are from Bella, if anyone else is familiar with the company. It's a good, sturdy, not too light weight t-shirt.) I believe they have said that straight line crew neck and possibly even some tissue tees will be listed as they go back through the old stock. Supplies are very limited, and not all designs are available in all sizes. A great opportunity to get in there and grab something special!