Well, I'm actually not heading South until the wee early hours of Wednesday, but I'm shutting
Izile's Oddities
down for holiday hiatus today (Tuesday) at about noon (EST) so I'll have time to get any last minute packages to the Post Office and still pack and get everything cleaned and in order for pre-flight checklist tonight.
So, thank you to everyone who shopped with Izile's Oddities this holiday season - being all jobless, it REALLY HELPED!
And thank you to everyone who chose to shop Etsy.com and any other small or local business or online retailer instead of some big-box mega-corp chain, even for some of your gifts. Your purchases MATTER SO MUCH to all of us in the small business and crafting communities. I know they all want to offer their thanks as well.
So, Happy Holidays, one and all, and I hope you all have a very Merry New Year!! See you in 2013!
~*~*~*~*~*~*~*~*~*~*~*~*~*~*~*~
And, my last plug for the year is a good one! A bit of a review, too. I'm not a huge tea drinker, it's more an occasional drink for me (excluding sweet iced tea, which is ubiquitous in my home) than anything, and I can be very picky about anything I eat/drink.
Dryad Tea
(also
DryadTea
at FB) makes hand-blended, loose leaf teas with a strong fantasy influence from the band
Pandora Celtica
, a five-person
"... dark faerie Celtic acappella band from the land of dreams and myth."
of which the owner is also a member. I love the depth and personality of the descriptions of the teas, and the tastes do not leave you disappointed! I was very much won over by her blends with my first cup!
For my part, I have tried 2 different blends of tea of which I got the smaller sample baggies (about .3 oz) so I could try some while waiting for my fella to open his gift of 3 other blends.
I tried Persephone:
"Pomegranate mixed with black tea and laced with vanilla to create a loose leaf tea worthy of Persephone herself."
The ingredients list also includes rose hips and sunflower petals. I normally don't like a lot of vanilla flavored teas, because they leave a kind of strange aftertaste in my mouth I don't care for. However, this tea was lovely! The vanilla was very mild and did not overpower the other notes or the tea itself, but gave it just a hint of a creamy smell that made it pair very well with just a touch of milk (and I normally do not put milk in my teas). It had a nice fruity sharp but sweet note to it that balanced well before and after the addition of some local apple blossom honey I horde for my rare cup of hot tea. Overall, very lovely!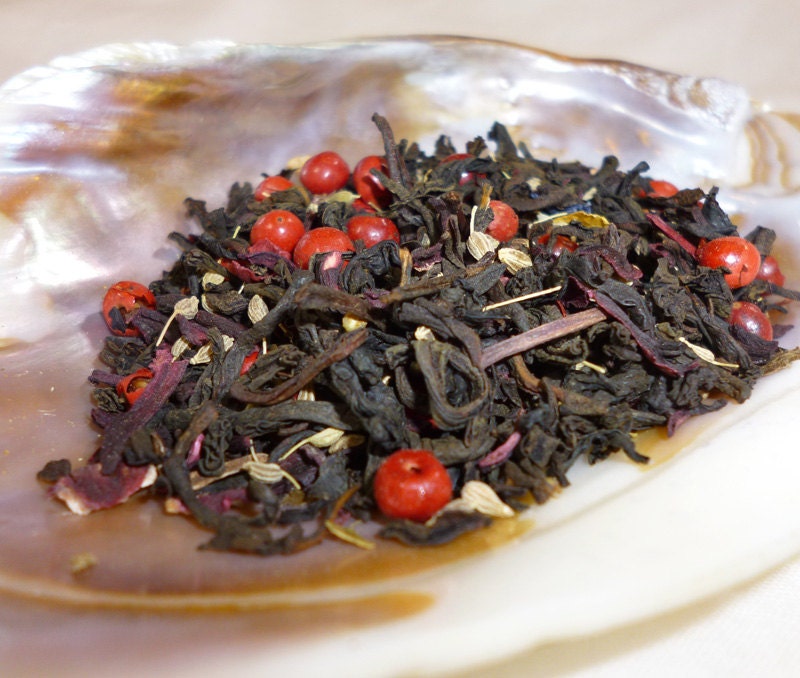 I also tried Rubiee:
"Mistress of the Keys, Keeper of Pandora's Box and Glitter Bomber Extraordinaire. This tea is a spectacular blend of Elderberry, Plum and Pink Peppercorns with a tiny splash of anise, cinnamon and clove."
It is a really beautiful looking tea, as you can see above. Plus, I love plum-everything and I think I might be a little obsessed with pink peppercorns as of late. Again, I had a moment of worry the first moment I saw "anise" in the ingredients list - I loathe everything licorice-like. I honestly never even noticed the anise, and I'm also not sure I ever really tasted the pink peppercorns much either - there definitely wasn't any kind of "pepper-like heat" but as pink peppercorns aren't really peppercorns at all, I guess I shouldn't be surprised. The flavor was a lot sharper and more tart than the Persephone and I found it called for a bit of honey and no milk. The plum reminded me much more of a sour Asian type of plum than the uber-sweet and juicy black plums I'm used to back home. However, with a little honey to balance out the fruity acidity, I might prefer it even over Persephone!
There are many other flavors available, including rooibos, herbal and green tea blends as well as black. I'd definitely suggest taking the time and reading through her descriptions, they're very evocative of a wonderful fantasy world and the realms of Faerie.