I've been working up to this blog post for a while now; and finally have enough pictures and recipes to flesh it out.
It started with my love of the beautiful flowering cherry trees, that I've been enjoying ever since moving to Brooklyn. This year, I was looking around on pinterest back in February, just wanting to see some great pictures of previous Sakura Matsuri festivals and maybe some cute clothes or jewelry inspired by this time of year. And I found. . .recipes. . . I had no idea cherry blossom was a flavor. So after much digging and digging all over the internet and not finding a single place to get sakura flavored anything on the internet, I turned to the s/o. He happens to have an old friend who lives in Japan. And then this arrives at my door:
Four bottles of sakura sugar. He couldn't find the sakura extract, apparently; but four bottles of sakura sugar would be plenty for me to learn more about the flavor and even play with some recipes! (Recipes will be posted in a different color, so you can skip around to the recipes you want.)
My favorite are these Sakura Petit Eclairs:
My piping of the Pate a Choux isn't perfect, but these little fellas tasted divine!
I used a standard pate a choux recipe - which is just bring to a light boil 1 cup water with 1 stick of unsalted butter, with a pinch of salt and a pinch of sugar. When everything is dissolved and got a good bubbling simmer going, dump in 1 cup regular all purpose flour and stir quickly in one direction until it all comes together. (You may - will - see a film on the bottom of your pot as you stir - don't worry, totally normal, just ignore it, it's not even hard to wash off later). Once the dough is smooth and well blended, dump it immediately into a stand mixer (or large bowl if you don't have a stand mixer) and beat with the paddle attachment on medium for 3-5 minutes (you want to get all the steam out). Once the mixture has cooled down and vented all its steam, while you are still beating, add one large egg at a time, until you have added 4 eggs (you're shooting for 1 cup of eggs, so if you have jumbo eggs, you might only need 3, if you have med/small eggs, you might need 5 - when in doubt - double measure everything!) Add each egg, one at a time, beating until thoroughly incorporated before adding the next egg.
Once the last egg is beaten in and the dough is smooth and elastic, then you just scoop the dough into your piping bag (or a sturdy zip-lock style bag with the tip cut off) and pipe onto a baking sheet lined with parchment paper. (You should have your oven preheated to 400 for smaller eclairs/puffs and 450 for larger (full sized) ones) Make sure to give them at least an inch or so on all sides, don't over crowd! And the dough can be kept in the fridge over night if you want to mix it up and bake later. Won't keep long, but at least a day, maybe two.
Bake for 10-15 minutes (depending on size you went with) and DO NOT EVER OPEN THE OVEN DOOR TO CHECK! You let the steaming out. After 10-15 minutes, lower the oven to 350 and then bake for another 15-25 minutes (again, bigger eclairs take longer than smaller puffs). Remove from oven and let cool. At this point, take a chop stick, or something similar, and poke one hole in each end of every shell. Can be frozen to be used later, or stored in an air tight container on your pantry shelf over night if you have a hard time completing a multi-step recipe in one evening.
I used a simple vanilla pastry cream for the filling, spiked with a touch of sour cherry cordial for a cherry-vanilla flavor.
Take 1 cup whole milk and 1 cup heavy cream and heat to a simmer over medium with a split vanilla bean. Once simmer is reached, remove from heat and let sit for 15 minutes. (Remove 1/2 cup of mixture and set aside)
In another bowl, wisk together 4 large egg yolks with 1/2 cup of sugar until well mixed, then add in a 1/3rd cup regular all purpose flour and a pinch of salt and wisk until well incorporated. Add a little of the hot milk mixture into the egg mix and whisk until combined, this will temper the eggs and keep them from curdling in your custard. Add a little more of the hot milk mixture and mix until combined. Then scrape all the egg mixture back into the original pot with the milk mixture and mix until well blended, and turn the eye back on to medium-low, stirring constantly. When it starts to thicken, and big bubbles start to rise up in the center, it's almost pudding consistency and will only be another minute or two until it's done. Remove from heat at that point. After heat is removed, add 1 tbsp of cherry liqueur or cordial. Transfer to another bowl/container, press plastic wrap down on top (to prevent a skin from forming) and refrigerate for at least a few hours, but best to do over night.
When you're ready, you'll spoon this mixture into a piping bag, and pipe directly into the holes in the eclair/puff shells.
Lastly, I made a sakura sugar glaze.
Very simple, if you can get sakura sugar, just put it in a food processor and blend until it has the consistency of powdered sugar. For this small tray, I mixed 3 Tbsp of Sakura Sugar with 3 Tbsp of regular powdered sugar, and just a couple of drops of sour cherry cordial. Then, you want to add *just* enough water (super small amounts, like 1/8th tsp or 1/4th tsp at a time) to make the sugar into a paste. You don't want it too thin, or it won't show up it's color and it won't stick to the eclairs/puffs. Dip the filled shells in the icing and let set.
DONE!
I also found that a few recipes just weren't going to work without the sakura extract. The sugar is great, and can be very flexible, but doesn't have the same strong concentration of flavor that would be needed to pull off certain recipes. As an example, I wanted to make a Ramos Gin Fizz with sakura extract instead of orange blossom water. Instead, I made a simple syrup with the sakura sugar. It never imparted that subtle cherry blossom flavor to the cocktail, and the dried petals and leaves that wouldn't dissolve in the simple syrup left an unpalatable grit in the drink. I could have filtered the simple syrup, but I didn't see the point in repeating the experiment as the flavor was just too soft to stand up to the gin base.
Instead, I worked out and came up with THIS cocktail instead!
This is my own Sakura Cocktail that I came up with:
1 oz Sour Cherry Cordial (I adore American Fruits' brand)
1 oz Elderflower Liqueur (like St. Germaine's, though I prefer Thatcher's)
tiny dash of fresh lemon juice (just a bit for brightness)
Top with sparkling soda water (would probably be gorgeous with sparkling wine, but I haven't had any in the house)
At last night's Sakura themed revelry, there were also a couple of other traditional Japanese treats:
the elfling has very clearly never cut sashimi before.
sakura tea - thank you Mitsuwa Grogery, NJ!
And, of course, there was Sakura Jewelry, by Izile's Oddities.
I hope wherever you all have been, and however you have spent this gorgeous weekend, even if you live in a place where there are no flowering cherry trees, that you've had a lovely weekend, enjoyed whatever flowers have found their way to you, and maybe try and new spring treat or drink!
~*~*~*~*~*~*~*~*~*~*~*~*~*~*~*~*~*~*~
There are so many wonderful sakura items on etsy, it would take me forever to show you all my favorites.
And, I know I've blogged about this company before, but, she is the ONLY shop on etsy that I have found that is selling anything that actually has cherry blossom FLAVOR in it! There are a few that are cherry blossom decorated, or cherry flavored with a cherry blossom shape or color painted on, but the closest anyone has come is the Spring Celebration Cherry Blossom Green Tea cookies from
Butter Blossoms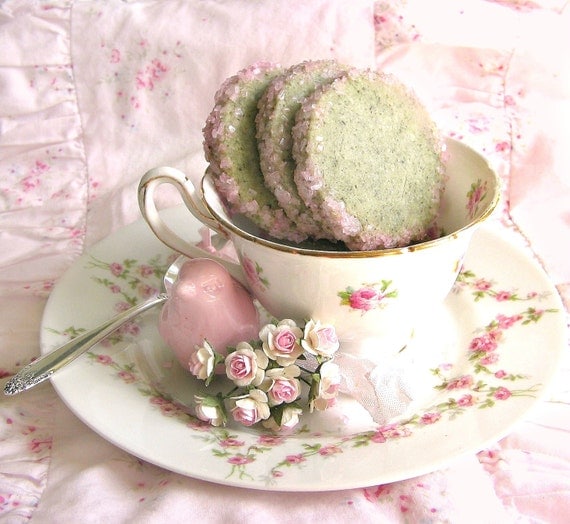 I've seen the Cherry Blossom Green Tea at Mitsuwa Marketplace in NJ, where I bought my own straight up Sakura Tea (they had plain - just preserved blossoms only, green tea - blossoms blended with green tea, and black tea - blossoms blended with black tea).
So, that makes this the only item I've been able to find that might actually be able to share that taste of sakura flavor to the whole country, regardless of how close you are to a Japanese market or having friends in Japan willing to hunt and ship you stuff.