It's fully summer now, and despite the fact we're still getting rain at least 1 day out of every 5, there's been enough sun and heat to counteract it. The garden is doing well.
Also, I got a day-job, again! Yay! I'm not allowed to talk about my company anywhere where I talk about my opinions, because it's a charity organization - so, you won't hear anything about it except that I'm happy!
Of course, this has meant that with a new 40-hour work week, and it being summer, that I've been getting very little done in the Izile's Oddities department. I've completed some custom pieces, and I always make time for my customers who want something special designed just for them - but the general crafting for etsy has had to take a big backseat. It will probably come back either when I acclimate back to a full-time job schedule, and/or when the weather starts getting so cruddy that I don't want to be out in it.
I've also been taking more time for my own art projects, tending the garden, and playing in food. I actually started a new blog
South Eats North
- that's all about my food adventures in NYC (reviews, rants, and recipes). I started it on a quiet rainy lunch break just before the holiday. There's only 3 entries so far, and they're kind of introductory, "just getting going" posts. I'm hoping to be working on a good recipe post with pictures, soon! One of the things about writing at your desk during lunch is that you don't really have a way to make the posts very visually interesting.
And speaking of the art projects for myself, one of them is a picture frame renovation inspired by
The Night Circus
by Erin Morgenstern. It's an old, wooden, very ornate frame, and I'm doing it all in black and white, and then, there's a sculpted ribbon that spirals around the edge of the frame that I'm going to do in bright red.
~*~*~*~*~*~*~*~*~*~*~*~*~*~*~*~*~
If you haven't read
The Night Circus
, I highly recommend it. It's fairly light reading, but so enjoyable and inspiring! If you like the kinds of mythical realism in modern fantasy, like Neil Gaiman, you'll probably love this book.
I'm not the only one who's been inspired by
The Night Circus
. Using the title as a search term on etsy gives some very interesting results!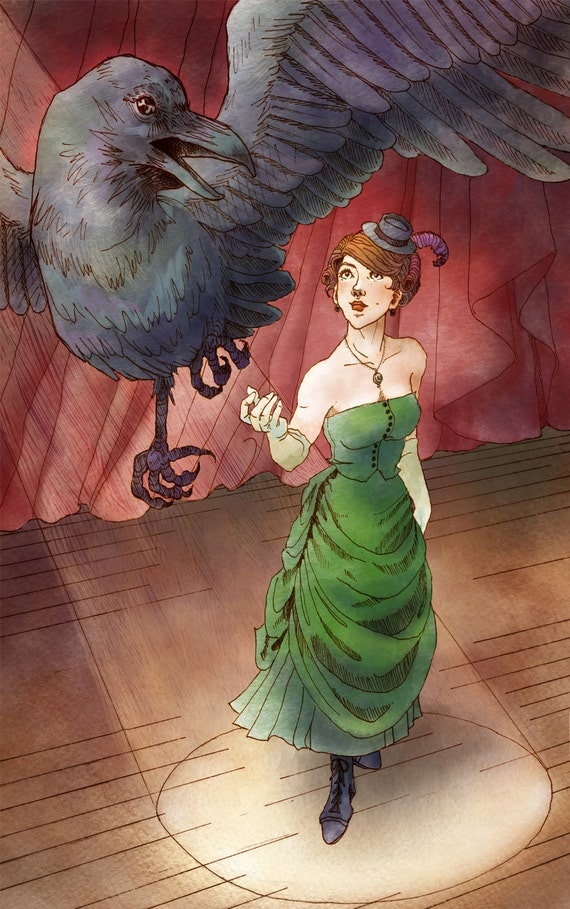 Awoken Words
does illustration prints of works inspired from stories. And she has one from the Night Circus, where the Illusionist, Celia, is first auditioning to join the circus, and turns her jacket into a raven. I think this is an absolutely lovely visualization of this early scene in the book. There aren't many prints in her shop currently, but the shop isn't quite 2 years old, yet. However, all the prints, whether color or monochromatic, are beautifully rendered and exceptionally charming in style.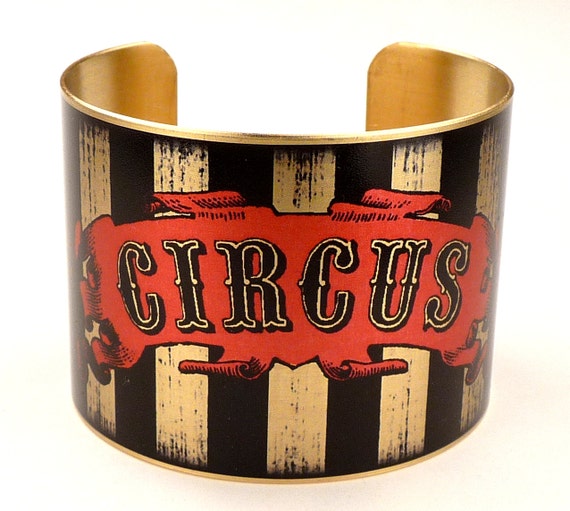 Accessoreads
is another shop that takes inspiration from books and stories. "Wear What You Read" is their shop motto. And this white, black, and red circus bangle would be the perfect nod to those of us who would be rêveurs. The rest of the shop is 6 pages of cuffs inspired by history and literature. There are also a couple that are thinner bangle styles than the one pictured. If you're a book lover, I'd suggest taking the time to pour over the options!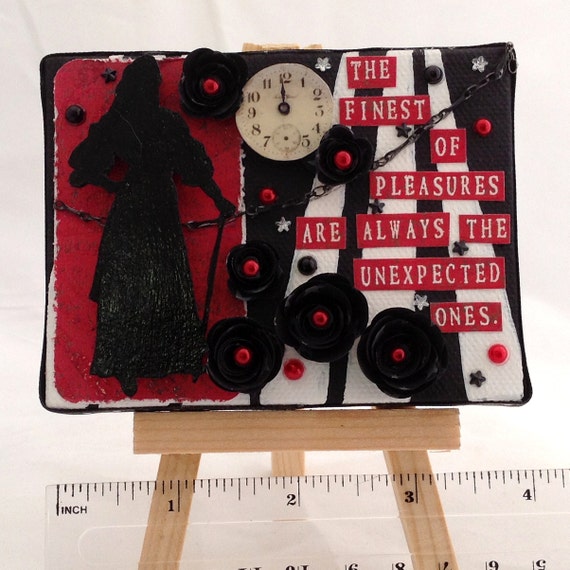 And, the newest entry in this circus of etsy sellers, with a shop just made in May of this year, is
BluDragon Art
, featuring mixed-media canvases. This 3" x 4" mini-canvas is a winsome nod, featuring a quote from the book, and small details (which I won't spoil for those who haven't read the book yet) to bring a little bit of that enchantment to your own desk or shelf. So far, the shop only has one page of art, but custom orders are welcome, and I think you'll find the other examples of her art as equally appealing.