So, I just wrote a bit of a blurb about geeky fandom cookbooks on my new foodie blog, and I was going to link it over here, because I think it is relevant, being all nerdy and stuff, and talking about the new "Shire Cookbook" being created by those who brought us "A Feast of Ice and Fire."
You can read the entry here at
South Eats North
.
Also, to keep on track with Izile's Oddities, I found some shops I thought were pertinent. Now, because I don't approve of blatant copyright violations, I'm not going to feature anyone selling non-licensed Game of Thrones items. However, a search for "geek" under plants and edibles did give a couple of good hits!
Geek-a-bye Baby
is a surprise contender, as, being a baby supply shop, is normally the last thing I'd be looking at. However, among all the baby paraphernalia, there is a listing that I thought was pretty sweet! Pun only sort-of-intended.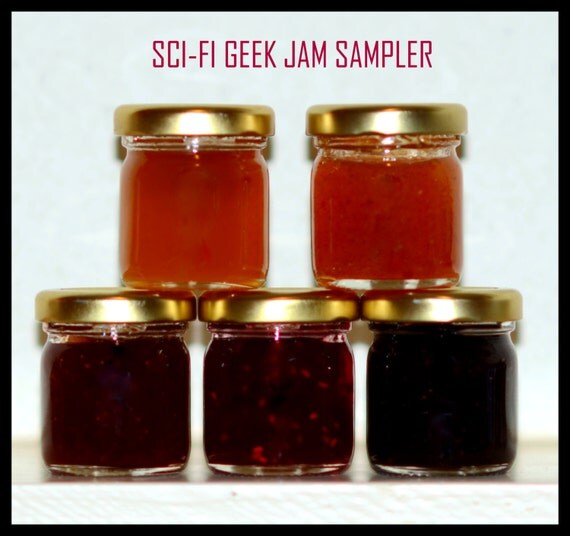 The Scifi Geek 5 Jam Sampler. Each jam is inspired by a different fandom, and is a mix of seasonal fruits, hand blended with help from "the Austin-based Kitchen Witch, Axure Anansi Grave Armand, of Half Moon House." I particularly think the Shiny (Firefly/Serenity) flavor of strawberry blended with lemongrass and ginger might be an interesting take on an old classic! Definitely go check out the jam, there's plenty of information in the listing (also jams for Star Trek, Star Wars, Doctor Who, and Dune fans!), and if you're in the market for baby-stuff – eh, why not!
Otherwise, if you're looking for a shop that specialize more in nothing but edibles, try
HearthStone Bakery
, they specialize in baked goods inspired by the World of Warcraft.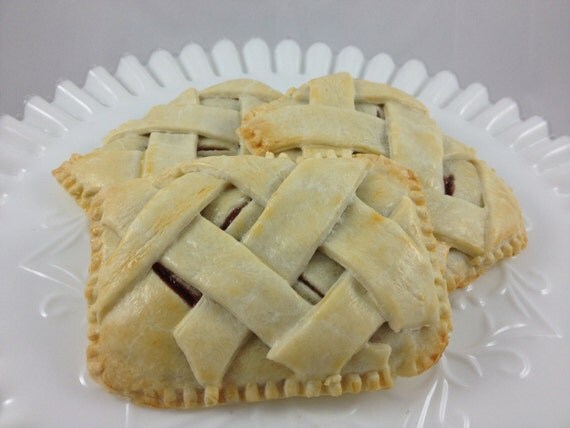 I never really got into WoW that much – had a bunch of friends back home who did – but I wouldn't count myself knowledgeable enough to know how accurate these are. I think this Mage Strudel looks good, though! Plus, they come in your choice of 5 flavors,
and 3 shapes, with custom decoration options available upon request.
NOM!