And Mid-Autumn Moon Festival, Fall-rites, and Mabon, and all the other lovely celebrations that mark the rotation of seasons!
I'm not always the happiest when fall weather starts encroaching too early on my green summers, but once it's here legitimately, I can warmly embrace the season (as long as winter doesn't start pushing its nose in too early! Wait your turn, winter! All things in their time!)
I don't really have a lot to report on the Izile's Oddities front. I haven't honestly had much time, with day-job business recently reducing me to work-food-sleep-repeat for the past couple of weeks. BUT, the big "stuff" is done for now, and I'm hopeful for some more time to work on my own projects, soon. Currently, I'm working on a commission piece that's very interesting, but a bit outside my normal aesthetic - it involves a LOT of teeth. Yes, teeth, big incisors, molars, canines. I was given a bundle of teeth and asked to create. I've been making some slow progress, but as I've never worked with teeth before, I'm trying to take my time and get a feel for them. I know 2 of the teeth are human (came in a sealed medical bag labeled as such), and 2 are from a dog - and the rest? I'm not quite sure ... I know they were acquired perfectly legally from an oddities shop in Manhattan, so I'm not worried about anything unethical - it's just odd work - fun, and sometimes being pushed outside of our normal comfortable patterns is good for growth. So, we'll see where that goes.
I still need to find time to finish up my Night Circus picture frame, too. Autumn definitely lends itself to more indoors times (and winter triple-y so!), so, we'll see.
~*~*~*~*~*~*~*~*~*~*~*~*~*~*~*~*~*~*~
The Autumn season definitely has a gorgeous and inspirational color pallet to work with, that's for sure! And the amount of treasuries going up on etsy with all the warm golden, bronze-y, and russet colors are boundless!
In a recent treasury on my following board, I found
Rainwater Studios.
While she focuses on bridal accessories, her handmade jewelry is what caught my attention - particularly this "Fall Splendor" piece - which has a decidedly vintage feel to it.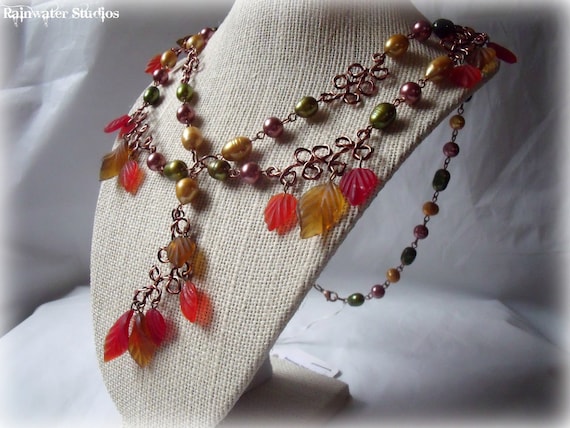 And with freshwater pearls and glass leaves, this piece is a real bargain at only $25! It's found under the Shabby/Boho Chic category, though there are also Vintage/Victorian, and Magical and Mythical categories for non-bridal-themed accessories. But, the bulk of the store (over 130 entries) goes to bridal hair flowers (not that you can only wear these flowers at weddings, but that's the target), and at 9 pages, there's plenty to browse through!
Happy Autumn!!