We're supposed to have snow tonight in the city, but prior to this blast, it was starting to actually look like spring. The weekend before last, I got my garden cleaned and flipped by beds; and this last weekend, I planted one side (with winter tolerant things like kale, lettuces, radishes...), and worked on lowering the pH of the bed where I will later plant tomatoes and peppers.
Also, there will have to be new herbs. Both my rosemary plants died in the cold, and my oregano, nearly 7 years old, seems to have not made it through. My regular thyme may have also passed, though the lemon thyme seems fine; as is the sage. This kind of puts a severe damper on the herbal components in my Magic Vial Pendants when my garden is reduced to thyme, lavender, and sage. With this cold snap, it will still be a few weeks before I can get bedding plants.
That said, after the time-change, I have noticed an up-tick in energy and creativity, which is a good sign. The other weekend, after gardening, I put some work in on a long neglected drawing of a dragon, and started a new watercolor painting of a unicorn. Most likely, neither of these will end up on etsy, but it's a good sign for productivity.
Speaking of, obviously trying to be a bit better about blogging over here, though most of my blogging energies are still going to keeping up the 3-times-a-week updates over at
South Eats North
, my foodie blog. Having a chronic addiction to eating everyday means there's normally something to blog about most weeks, whether it's recipes or restaurant reviews or whathaveyou.
~*~*~*~*~*~*~*~*~*~*~*~*~*~*~*~*~*~
I've also been poking around on pinterest more, in need of aesthetic inspiration. It may officially be spring, but it still looks cold and grey up here, and that's not very inspiring or motivating.
It was actually through pinterest that I found out about hair chalking and this etsy seller:
Sexy Hair Chalk
.
I haven't yet played with hair chalk, so I can't really say anything much on it, except it looks cool, and I look forward to playing with it this summer. Here is a
WIKIHOW
about how it works. There's lots of how-to's on google, and on youtube. I admit, I'm surprised it will work on non-blondes, and am trying to figure out what colors might work with my red hair?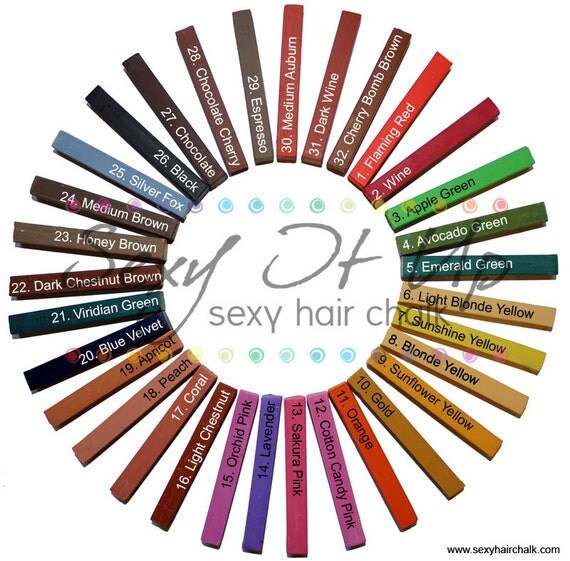 The above is her wheel of available colors, and she has lots of listings whether you want to just buy one stick for $1.49 (some colors on sale), or buy a big set of $48 for $39.99. I'm personally trying to think about maybe just 2 or 4. It's just a matter of deciding on which colors; but what a fun way to play with color without worrying about weird looks at the office!