*whew* I've been gone just about a month this time! Sorry about that. It's been quite a hectic holiday season, and my trip home to see family was entirely too brief. And I'm slowly trying to get everything for this year back into gear. I did upload at least one of my new items for
Izile's Oddities
on etsy lastnight. Finally took a picture and uploaded the From Faerie: Stardust bath salts to the lists (seen here at right). It's very similar to my Seelie blend, but incorporates Starwort flowers for love and patience, which helps add to the hints of purple (along with the lavender buds) amongst the Himalayan pink salt base.
~*~*~*~*~*~*~*~*~*~*~*~*~*~*~

I have also found another etsy shop - just last night while updating - that has really caught my attention.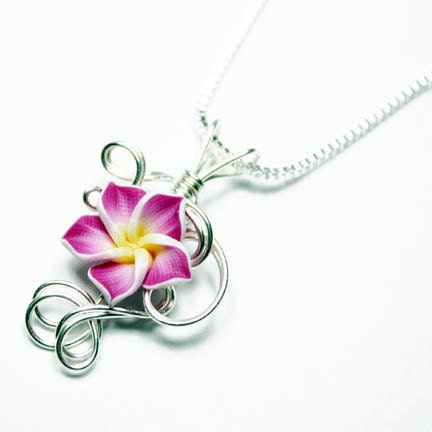 Nix Creations
has some of the loveliest polymer clay and wire wrapping pendants I've seen in quite a bit. I also like how the polymer clay can be used as a scent carrier. (I had noticed this when making my polymer clay lollipop hair sticks, you could rub fragrance oil into the lollipop head to make it smell like candy. It doesn't last forever, but it would last for a few days.) They tiny details on the flowers and the intricate way of wrapping the sterling silver combined are just gorgeous! It's hard for me to pick a favorite, and I think my favorite examples are actually on his
DeviantArt gallery.
They are all "custom made to order" so you can pick and choose flower style, color and such; but this is my favorite example currently displayed on his etsy (seen left).
He does carry other kinds of jewelry, including fused glass, and glass eyes - though I admit, I have never understood the appeal of glass eyes, or why there was a trend there for a while when taxidermy glass eyes were considered steampunk - makes no sense to me. But he has lots of them, if that's more your style.
He also has tutorials, which is generally a good thing, but I will admit I do have one criticism here. He has a $19.99 tutorial on how to "fracture marbles" and then make the interchangeable wire wrapping for them. My only thing here is . . . fried marbles are not a new and original concept, nor are they particularly difficult to create - we're talking going back to my grandma's days here - and there's nothing about it that's particularly secret. You can google "fried marbles" and get countless dozens of free how to's, including step by step youtube videos. Charging money for information so old that not only should it be free, but is free most places, is a little off for me. But that's 1 item out of PAGES of items, and hell, those flower necklaces make up for it. Now that's a tutorial fit to sell! How to make those tiny, immaculate, polymer clay flowers!