Yay! I updated my etsy shop last night. Know it's been long delayed. And, with lots of Magic Vials themed around love charms, just in time for the next holiday!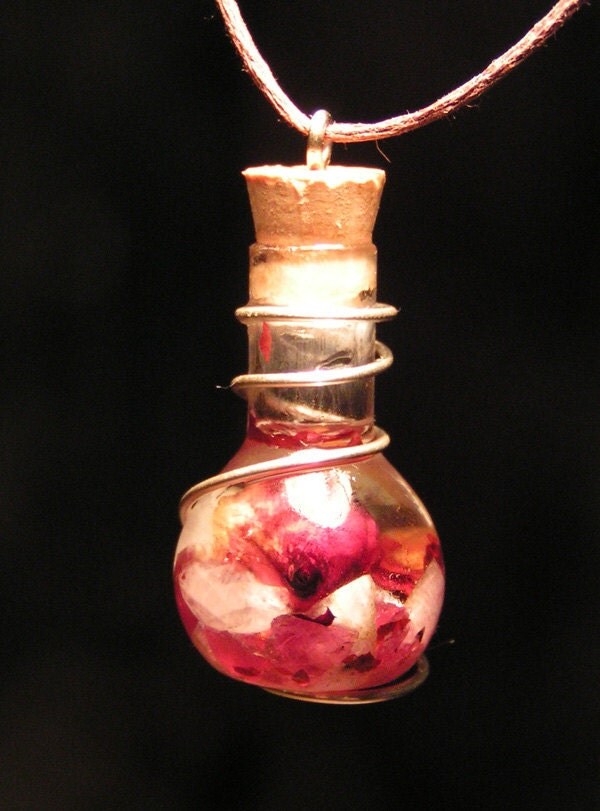 I currently have both a soft pink Magic Vial - Love and Light which with rhodochrosite and rose quartz is based more on the idea of self love, healing and comfort for $12; as well as the more traditional Magic Vial - Love Charm (left), with rubies and rainbow moonstone for love, romance, and passion for $20; for the creatives, Magic Vial - Artist's Heart, with garnet and opal for creativity, passion, communication and friendship for $16; and lastly, another Magic Vial - Lil Love, with rubies and freshwater pearls in my smallest vial for all the best qualities of passion and purity in a tiny package for $12.00
Also, now is the time if you want any custom love charms made for your significant other to send me a note!
~*~*~*~*~*~*~*~*~*~*~*~*~*~*~*~*~
I admit, my own V'day is not going to be very traditional. But I am lucky! My boss is letting me off two hours earlier so I can go to a Bourbon and Bacon tasting in Manhattan with my sister! Mmmm, Bourbon and Bacon!! Who needs flowers and candy?
So, this year, searching etsy, I decided what to see was out there for "Anti Valentines," because it can be a bugger of a holiday for a lot of people. (Another small self plug - charms like the "Love and Light" can be given to oneself, or could be given to a friend or family member who's been having a rough time of it. OK, last plug for me.)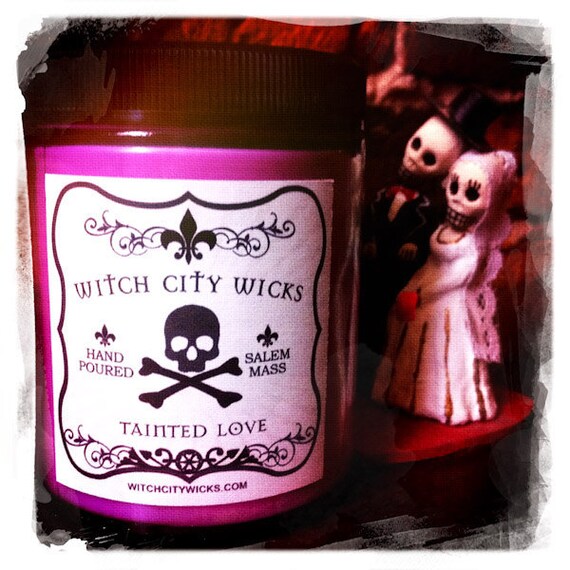 Witch City Wicks
grabbed my attention right off the bat with her Anti-Valentine's Day "Tainted Love" Candle. I love the skull and crossbones label against the pink candle. Not only that, but the scent sounds great! From the description:
"will mend your broken heart with an incredible mixture of orange & grapefruit, cherry blossom, hydrangea, apple and peach."
Yum! But, if you like the sound of the scent, but aren't so big on pink, or skulls, the exact same candle is made in a lavender color with a different label, sans skull. And, did I mention all her candles are all natural soy wax? Bonus!
Of course, her shop is full of lots of other scents of candles as well, if you're not in the "tainted love" kind of mood. Chocolate Wine might be a good scent to try for those more into the modern interpretation of a fertility festival. (Hey, there you go, anti-V-day people! How about we do like
Black Phoenix Alchemy Lab
does every year and bring back
Lupercalia
?)