So, for a while now I've had a few pieces at
Izile's Oddities
on etsy manually marked down by up to 20% off. Then last week, I noticed I was running low on bulb-bottom vials and sterling silver 20 gauge wire and decided I needed to raise funds by having another sale. This time, it was a Custom Vial Sale (first time I've done one of those) and if you ordered a custom blended vial pendant in the straight small vial (of which I have plenty) and using any other wire besides the 20 gauge Sterling Silver (I do have some 28 ga), I would make one for a starting cost of $5.00 instead of the usual $8.00 (fancy gemstones like rubies, sapphires, emeralds, etc., still cost extra). I decided to do this sale for the first 5 people to confirm a custom order. I so far have 4 slots left.
So now, I've made an Etsy Coupon Code to go on top of all this! Thing is, my birthday is coming up (Labor Day Weekend), and besides needing more supplies for my vials, if possible, I'd like to make a little extra to buy myself something small. SO, the coupon code is "Elfbday12" and will get you 10% off your entire order - everything - even the new traditional gemstone and sterling silver pieces, the hand painted mask, prints, sculpture, everything is included in that 10% off, and it gets stacked on top of already marked down items. So my most expensive Magic Vial Pendants, that were originally $20 are now $16.20!! Like the one shown here, which is sapphires and rainbow moonstone!
Now is a great time to buy! Get some great deals, get your own custom blended piece for less than ever, and you get to help lil Izile keep on going!
Oh, there will be more traditional jewelry coming, just some components seem to have gotten lost in the mail, and I can't finish necklaces without chain. But hopefully, soon!
~*~*~*~*~*~*~*~*~*~*~*~*~*~*~*~*~
Not a lot to tie-in to for a blog plug - but that's never stopped me before.
I was recently talking to a friend about green amber, so why not.
Low and behold, there is actually a shop called
The Beauty of Amber.
And, it's basically 16 pages of Sterling Silver jewelry set with genuine Baltic Amber. Some green, some not. Well, that about hits the nail on the head!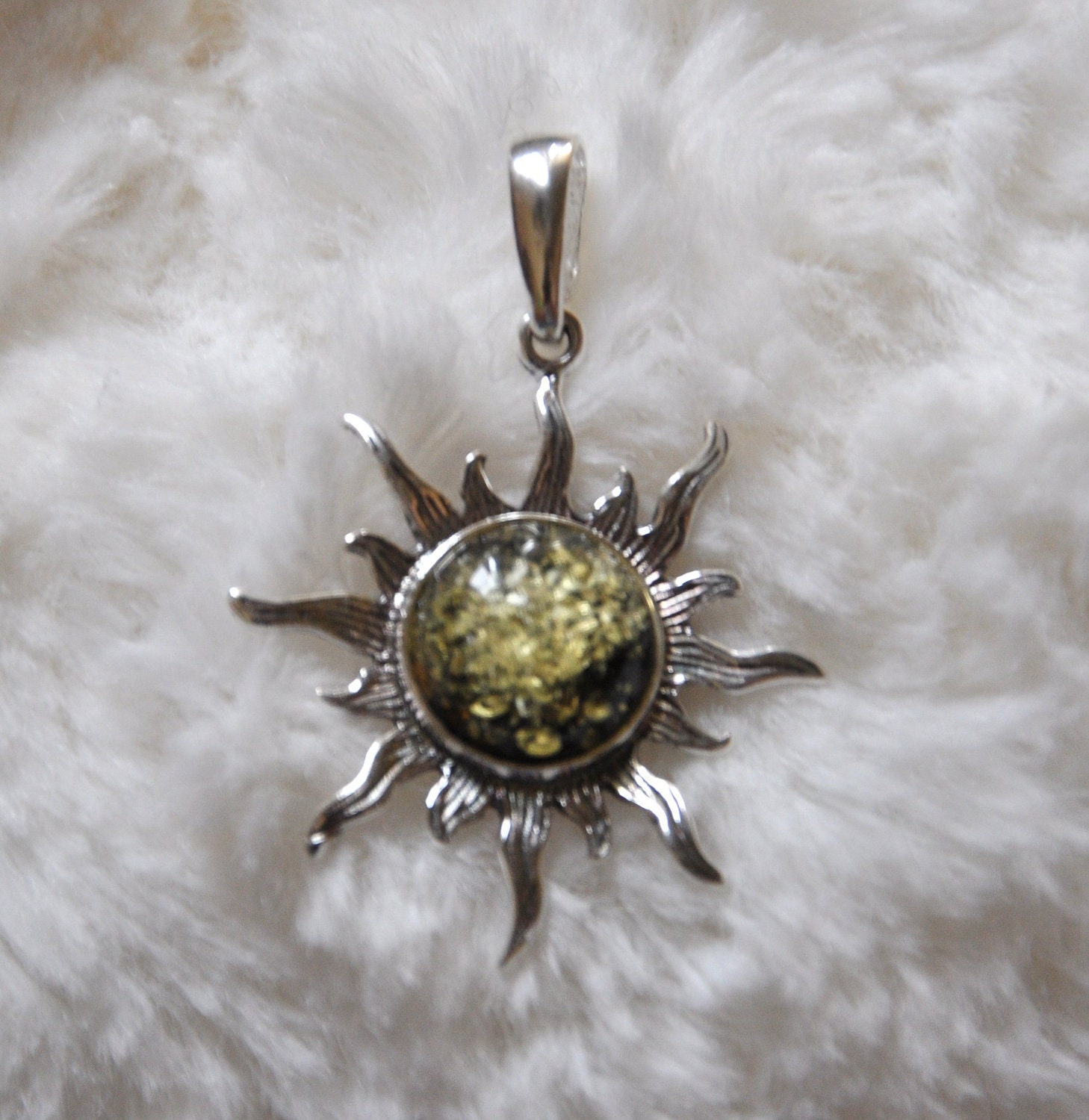 I am a little unsure about exactly how "handmade" anything/everything is, as there's nothing anywhere on the shop that says "handmade," specifically. There's very little information anywhere on the shop or in the listings, in general, except "real .925 sterling silver and genuine baltic amber." OK. Well. use your own discretion. They do have 100% positive feedback, the pieces are nice, very affordable, and her shipping and handling is freakishly cheap. Featured here is a nice sun design centered with green amber. The pendant, even after shipping, is only $22!