Less than, actually, as I'll be getting my badge on Thursday and I'm writing this on Friday.
Life's been swamping me pretty severely lately. I did finish one new piece this past week, one I've had in mind for a very long time, but it's probably (hopefully) not going to go up on my etsy shop. Hoping to get this piece into a brick and mortar shop. The pictures aren't great, I've been having issues with my old camera again - also, you try and take a picture of the back of your own neck with only one mirror in your room. Oy. But, here's my rough first attempts at photographing my Gothic Velvet Choker, all set and finished with a lot of sterling silver, a huge engraved genuine Onyx cabochon and a little over 1.5 carats of tear drop garnets!
Also, this is the last weekend to buy anything on sale from my etsy shop, or put in a custom commission piece on sale (there is 1 slot left out of the 5). Sales ends Sunday!
~*~*~*~*~*~*~*~*~*~*~*~*~*~*~*~*~*~
I admit I've been lax about keeping this up, even during work hours. I guess work's getting busier, I'm getting more responsibilities and a lot less time to really compose a thought out blog post. Which, all this is good! Means more chance of getting real permanence and not just being a temp-to-perm waiting for the last shoe to drop. Also, the news hasn't helped. I wake up in the morning, check my email, my social media, and the news. Ug. Sad, angry and largely helpless. It's terrible. I definitely need an infusion of beauty and creativity - hopefully DragonCon will work to supply that!
Completely random, what caught my eye on etsy today are these gorgeous cookies. I did a double take and had to reread, because they look so much like the inside of a Dragon Fruit, but with a different rind.
Butter Blossoms'
Pumpkin Spice Tea Cookies: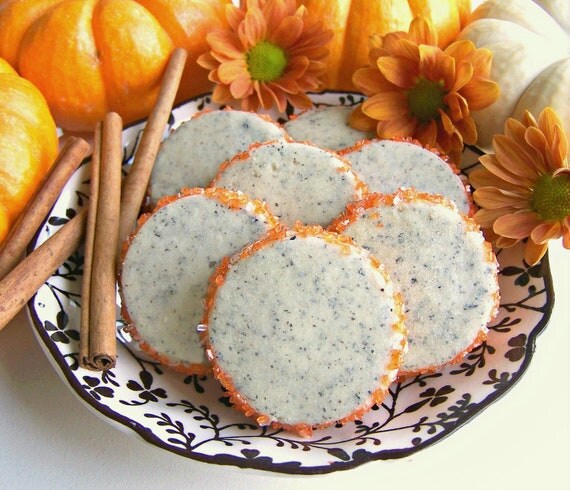 They're just so pretty, and I don't know how she got them that color, and flecked, and they look amazing! And they sound amazing, too! But it doesn't stop there, her shop has 6 pages of delectable looking confections! There's a pomegranate variant of the above which looks so lovely! Oh and there's samplers packages, and a cookie of the month club! ... And I should not be looking at this before lunch. My lunch break isn't for another 1.5 hours, and this is a dangerous pursuit - but entirely worth it! Go, look! Drool on your keyboards!