The trip to Atlanta for DragonCon was good! (Well, Dragoncon was good, the drive was a little wedge of hell). And this weekend has been about rest and recuperation. I did update my etsy shop last night with a few new little pieces. There's a new Magic Vial Pendant, Hope, a pair of sterling silver rose bud stud earrings with garnets set in the center of their petals, and this new finished necklace:
This piece is a three stone drop pendant on an embellished 20 inch sterling silver chain (including hook and eye clasp). The pendant part, including bail, is 1 1/8th inch long, and consists of a 4 mm round Peridot, a 5 mm round White Topaz, and a 6 mm round Blue Topaz. It's a great piece for those who like plunging V necklines and showing off décolletage. And since it has an extra long 20" chain, it also works well with those who have thicker necks, or are more muscular/athletic at and above the shoulders.
The gems are gorgeous, have a good degree of color saturation with lots of clarity and LOTS of sparkle! And again, these are real gemstones, not labs, synths or crystals; and all hand prong-set in a real heavy sterling silver setting, no snap-tite forms.
~*~*~*~*~*~*~*~*~*~*~*~*~*~*~*~
Saw some great vendors and artists at DragonCon. The first couple of years I went, I never went into the Artists' Gallery - I expected it to be just professional comic book artists. There is an area for that, but then one year, I went in and it was amazing. It's now one of my favorite things to see at the Con, and I kinda feel bad for the people who keep skipping it, having no idea what's in there. Of course, no photography is allowed inside, so it's hard to explain to them the awesome they're missing.
My sith companion for the weekend purchased a set of leather bracers from
Serendipity Leathers
, who, sadly, only have a facebook page, not an etsy shop. So, while I'm linking to them, they don't really count towards my plugging etsy artists count.
Likewise, I am enamored of the sculptures of
The Foundation of Arcane Enquiries
; however, they don't have any kind of internet shop at all. More's the pity, her faux taxidermy is amazing!
There was an amazing young lady who had a booth of masks, and she is in the process of building an etsy shop. Her items were amazing, and I bought one myself, so I'm saving her until she gets all her things together and writing a raving/glowing review of her stuff once her etsy shop is ready.
BUT, one of my favorite artists in the genre of paintings and prints from D*Con DOES have an etsy shop! *SQUEE* Her stuff is somewhere between Waterhouse and Froud, I think. It's lovely and it seems to absolutely glow in person.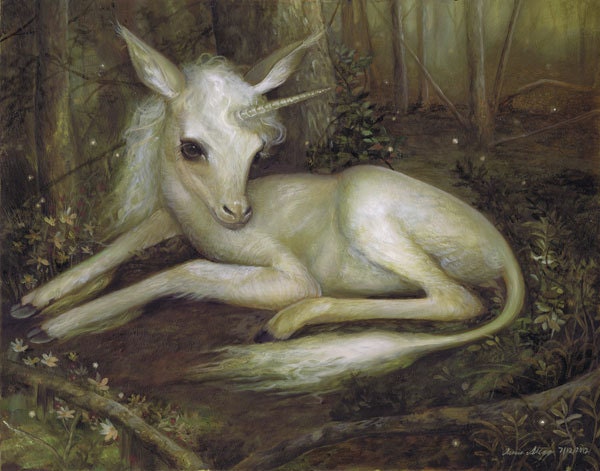 Annie Stegg Illustrations
her 8 x 10 prints are only $15 and she offers smaller sizes as well. And while it was her tiny unicorn foal that got my attention and dragged me across the crowded aisle into the nook her paintings were hanging in (shown here), her fairies, nymphs, and mermaids dropped my jaw. Each one is amazingly detailed, intricately wrought and flooringly beautiful.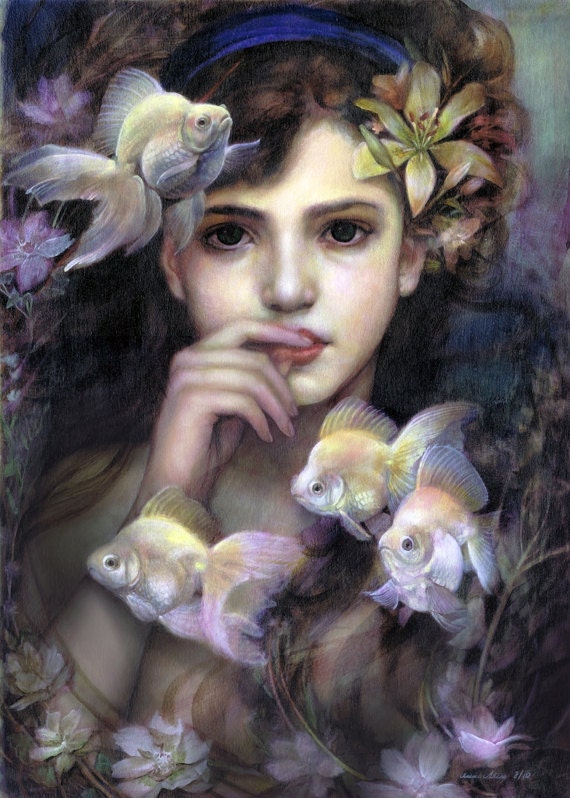 Picking one to feature is very difficult, but I decided to go with "Pearl Ryukin." We can only hope that the galleries and art auctions were kind to her, and that maybe in the future, we can hope to see bigger sized prints, or maybe even some originals in her etsy gallery.