Yup! We have a contest going on at Izile's Oddities. One lucky winner will win a $25 gift certificate to spend as they see fit at my etsy shop!
The contest is being run over on Aquariann's Blog, where she is doing a series of contests and give aways!
So go on over, enter to win! You get extra entries for watching my blog, or following my facebook fan page, or a number of other ways, as well!
Also, I thought this might be a good time to go ahead and put up the holiday deadlines. I just updated my etsy shop to reflect these dates, but I'll put it here, too.
The last day for shipping for Izile's Oddities this holiday season is December 18th. No packages will be mailed after December 18th until after January 2nd. (Because I will be out of state with family). That means all items must be bought and paid for by December 17th. The deadline for CUSTOM ORDERS is Friday, December 14th. That means all CUSTOM ORDERS have to be discussed, agreed on and paid in full, by December 14th to guarantee completion and shipping prior to December 18th.

Especially if you were thinking of ordering a one of a kind custom piece for someone this holiday season, I would ask you contact me sooner than later about what you're looking for. Even if you need a couple of weeks before you can pay for the piece, contacting me and us working out a formula or design well ahead of time gives me more time to get any extra components in will better ensure my ability to make you exactly what you want before the cut off date. (If you contact me Friday the 14th night and you want rubies, and I'm sold out of rubies, then you aren't getting rubies. If you contact me in the next couple of weeks about something, and I don't have it, I have plenty of time to go get it or order it if it's a hard to find component.)
~*~*~*~*~*~*~*~*~*~*~*~*~*~*~*~
Well, you already need to go read Aquariann's blog in order to go see the giveaway she's hosting for me, so, you might as well take a little extra time and get to know who she is and what she does. She is one of the leaders of Fantasy Artists of Etsy (FAE) - and, as ever, all FAE member goods can be found on etsy by searching "faeteam."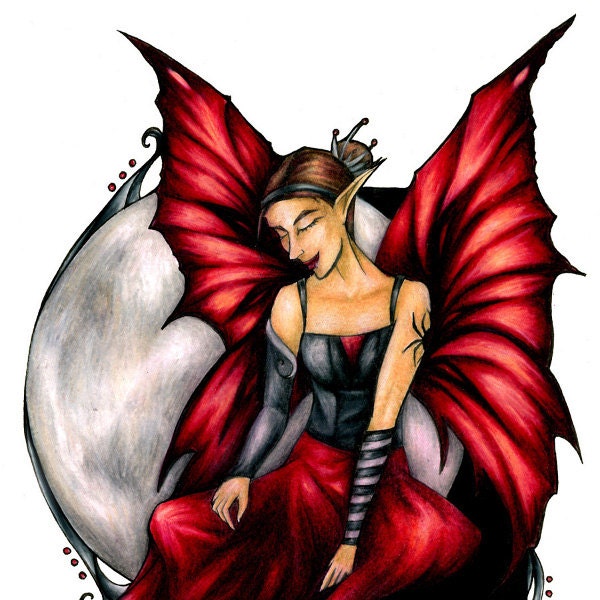 Aquariann
is the etsy shop of her fantasy art. She primarily works with classic illustration with pencils and inks. Transferring her designs to a variety of products such as bookmarks, buttons, magnets, pendants and even standard prints. Bright colors and whimsical fantasy themes make for fun and distinctive pieces. The piece pictured here, and one of my favorites, I think is a great example and shows a stylistic kinship to other fantasy artists like Amy Brown and Molly Harrison.
While fairies are a staple with Kristin, expect to see plenty of witches, mermaids, dragons, unicorns and other fantastic creatures brought to life with vibrant colors and beautiful detailing.