The first day of spring, even when the wind still carries an icy blast, just knowing the sun has rounded that point makes it feel more tolerable.
What better way to celebrate spring then joining a bunny-themed spring blog hop! (like I did with the Snowflakes previously). As you can see I have changed out the Follow the Snowflakes icon on the side bar to the Chase the Rabbit icon! And a white rabbit at that, wherever might they lead you? (Hop the link and go see!)
Small side note, I will be doing a Fairy Treasure Chest give-away on my Facebook Fan Page just as soon as I hit 300 fans (only need 3 more!)
~*~*~*~*~*~*~*~*~*~*~*~*~*~
First, let me start by saying there is no shortage of rabbit-themed-ness on etsy. If you're a fan of lagomorphs, you are in luck. That stated, obviously I wasn't able to comb through even half of the results the search engine threw at me. So, here's some of my favorites that I stumbled across.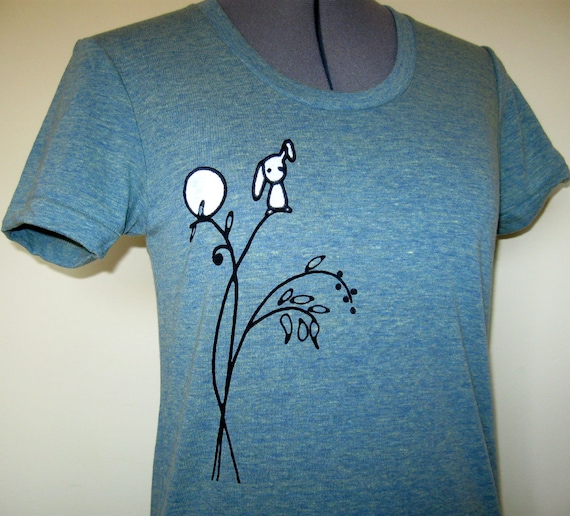 Limey Ts
caught my attention first with her fanciful and playful designs. As shown in the picture here, this artistic feel combined with simple lines makes for a very charming item. Also of note is that all the shirts are Eco-friendly, and hand printed with water based inks. A bevy of other cute woodland creatures and sprays of botanical themes decorate just over 3 pages of shirts and prints.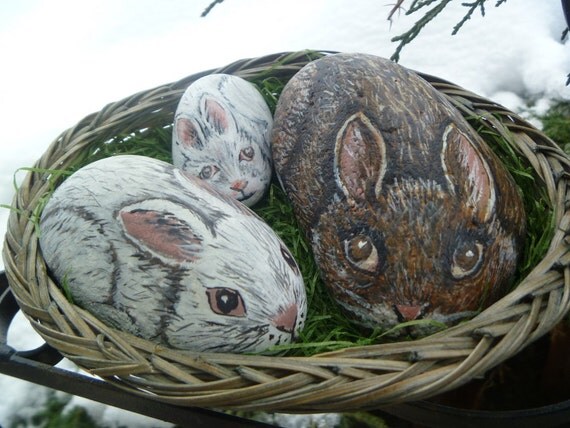 And giving me a through-back and a chuckle from my childhood,
Petimagery
is home of hand painted pet rocks. Shown here are their family of bunnies in a basket. There's a good bit of detail to the works, and, as an added bonus, the artist does offer to paint custom pieces from photographs of actual pets. She does do regular portraits as well, not all just on stone.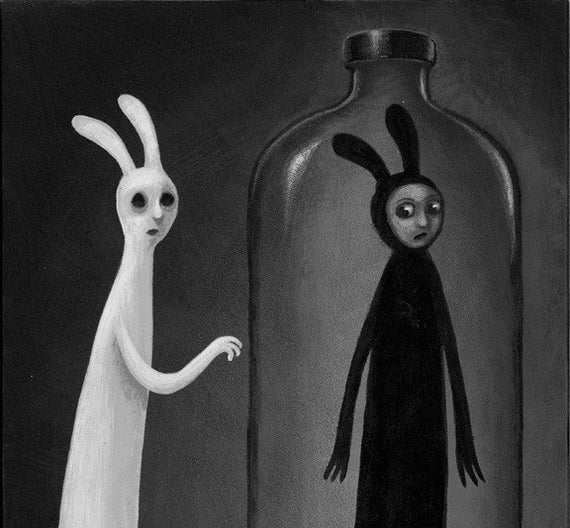 And if you like your rabbits a little darker, a little stranger, well then I think that
Hi Horse - art by Andrice Arp
might be more up your alley. The picture shown here is just one of a few rather darker paintings of bunnies, or bunny-men or similar. The art is compelling and has a definite feel of a bygone years. There are a number of full-color pieces as well as a series of faux-woodblock prints of dead presidents as dogs. I think aside from the bunnies, the pieces featuring aliens are probably some of my favorite, they remind me of the old sci-fi alien horror movies of the 50s.