It's a cloudy-rainy day today, but up until today, it's been super summery (we'll pardon you, storm Dorian, as my tomatoes could use the rain, now that they finally dried out enough in the 100+ heat).
The summer also inspired some new Magic Vial Pendants!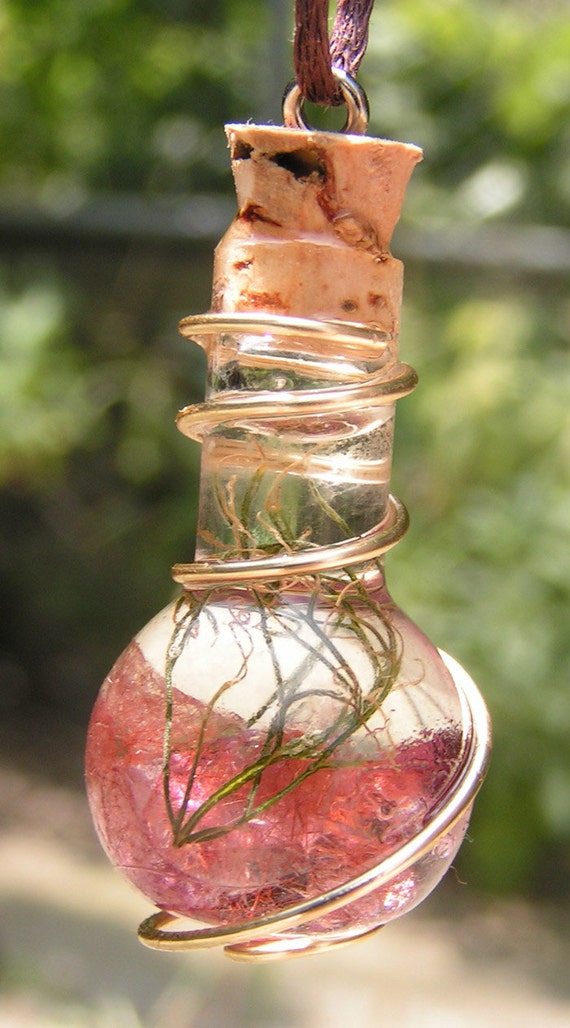 My favorite right now may be this one shown at left: Summer Lightning. It's a mix of Red Rutilated Quartz and Garnets, with a sprig of bronze fennel from my garden. I think the fennel really mirrors the lightening-like lines in the rutilated quartz. That combined with all the items connecting to either/or/and the elements of fire and air, makes for a sparkling talisman for summer storms. I do love a good thunderstorm!
I'm really being inspired by gemstones with inclusions and veining as of late. I've always liked "flaws" in my gems, as I think it gives them more personality and can really make "reading" them a lot clearer/easier. The rutilated quartz is a great stone for that look, and I particularly like the red variety I've come across. Another similar stone that I also just started using is Moss Agate, which is almost translucent in parts, pale green, and shot with deep dark "mossy" green growths that give it its name.
Moss Agate was the inspiration for this other new vial, along with the bounty of herbs pouring in from my garden: The Apothecary.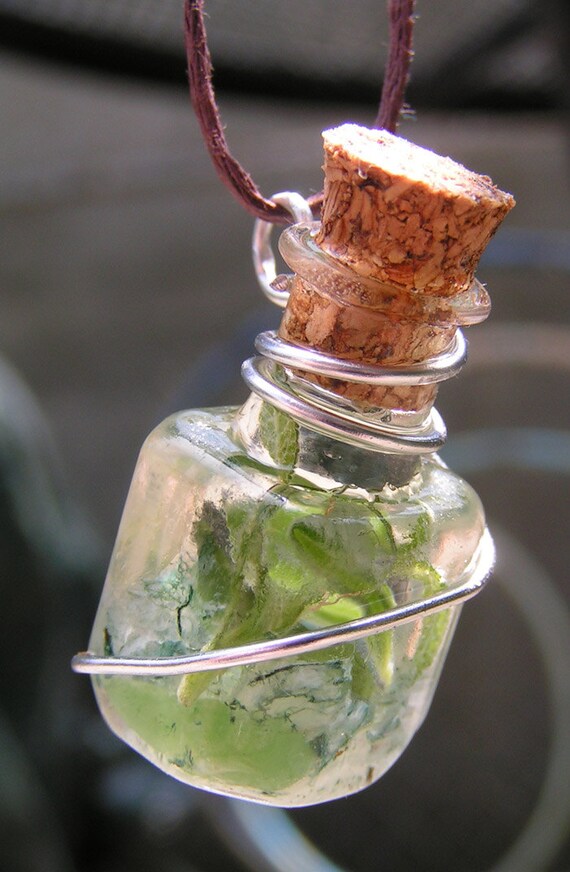 I used my last cubic vial for this, as I thought the shape went well with the theme. This vial is filled with Moss Agate and a few slivers of pale green Jade to add to the wisdom and luck of the vial. Along with that is a blend of herbs including lavender, sage, and fennel.
This one is a mix of elements in a balancing act, as a good Apothecary would be, with the herbs and stones working as tie-ins to the elements, with peaceful lavender tying in air, purifying fennel tying in fire, and healing sage tying in the earth; added with the earthy green moss agate, and water-loving jade.
I also recently realized I had From Faerie stock left over from the Steampunk World's Fair that wasn't on my etsy shop, so I added those back, and have decided to make all future From Faerie products made-to-order - unless I'm experimenting with a new blend, in which case the original will be listed.
~*~*~*~*~*~*~*~*~*~*~*~*~*~*~*~
Busy, busy, summer! But it's been a good one. Day job is going well - garden is doing fairly well (better than last year - herbs are amazing) - and I'm getting to do/see a lot of things. Granted, that doesn't leave a lot of time left over for the etsy shop - but I've been making time for custom orders, and a few new pieces here and there. Need to make more time for my own experiments - maybe if Dorian lasts a couple of days, I'll have some rainy-indoor days for crafting.
For my plug today, I'm plugging a whole group! the Enchanted Etsy Street Team has just recently gotten their own Pinterest board, where you can track all the wonderful things these magically inspired creators are coming up with!
For those of you not familiar with pinterest - it's crack. It's like bookmarks feature old browsers like Netscape used to utilize for saving important websites you stumbled upon and didn't want to lose, except it's all visual. Instead of a blank link that just says "recipes" it's a list of pictures of food. Much better option for those of us who can be more visual at times. So this is a great way to get acquainted with the Enchanted Etsy Team! - Just look through this pinterest wall, and click on the pictures of anything you like, and it'll take you to that store and that item! Brilliant!
(A sample shot of all the wonderful things from Enchanted Etsy! Just click
HERE
)