I know this is my most neglected space, and that's saying something considering how the new 4 pendants I just put up on my etsy site are the first 4 since spring! I'm taking a moment to make a go at updating here, though, as well, since I just updated my DeviantArt gallery and blog.
Mostly, I'm doing semi-OK with keeping the
Izile's Oddities Facebook Fan Page
updated on a semi-regularly basis. I did a Halloween costume give away! That was fun! And the not-for-sale artsy things (some unicorn art, mostly, and other sketchy-doodles) made their way onto the
DeviantArt gallery
over a month ago.
As far as blogging, I'm mostly working on keeping a regular schedule on my South Eats North blog, about food. It's proved fairly difficult to keep up with that, but I'm making a real effort, and over the past summer/fall I've found myself a lot more passionate about food - especially due to my whole conflict over not sure if I want to keep being a customer on etsy - I mean, I guess I can just not leave feedback on anything I buy. Just tell the artist in a note "hey, this is great, I love it, but I'm not leaving feedback because I don't want the entire internet to see my entire purchase history." - This also gets more tricky as I don't want people who know I shop on etsy looking through my purchases (which would now be public), and seeing if they can figure out what I bought them. It's dubious that would happen - but I know some people are sneaky that way. So, I'm trying to reconcile my "must shop small business" mantra with "desperately want to keep every shred of privacy I still have" need.
That said, I did put up four new Magic Vial Pendants this weekend. Mostly rehashes and variations of past favorites.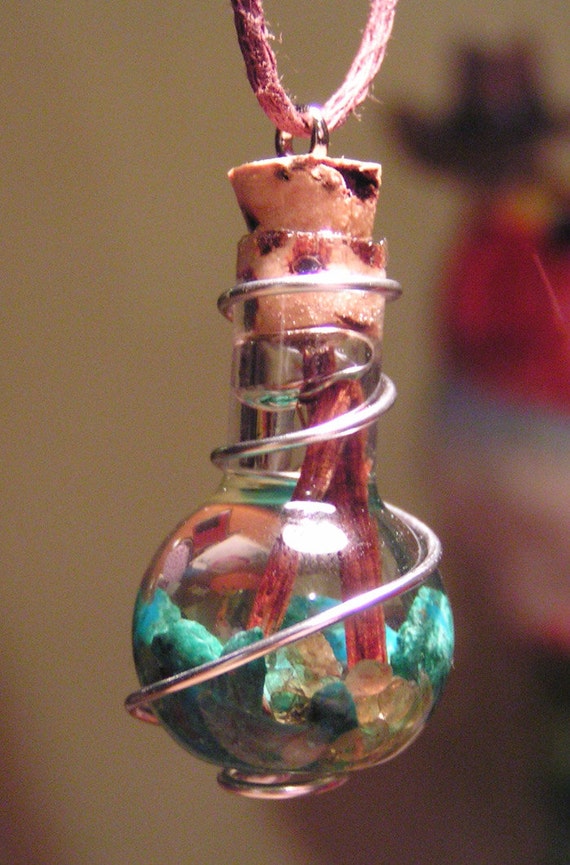 I make these vials just about every winter. For one, I love forests and trees and how this vial seems to be a bit of an upside down tree. I also love how beautiful cedar wood looks in the oil; and cedar wood is something that I can use all winter long, and has great properties of protection and purification. Sad I could never work out the cedar/cinnamon bath salts the way I wanted them. That, combined with the chrysocholla and peridot, beautiful contrasting green stones for earth, life, regrowth, vitality of nature . . . it's just a good feeling vial.
I also made a Clear Seas (aquamarine, pearl and lemon balm), Eternal Sunshine (sunstone, citrine, and immortal flower), and a variation of the Snow White vial I had made that was really popular, but finding snow quartz has been a bit difficult, so I'm trying one with white moonstone instead - still black onyx, one ruby and a rosebud. Still a great looking pendant for those who love the fairytale princesses. (I tried making a Sleeping Beauty one, but it went over less favorably, and I never got around to designing more fairytale princesses, though, I still want to, one day.)
~*~*~*~*~*~*~*~*~*~*~*~*~*~*~*~
As for shopping on etsy - it's up to you. I still encourage people to shop small business and independent artisans whenever possible. Some people don't care if everyone can see that they spent $XX.xx on _____ . Others are more secretive - like I said, I guess you could always just send your feedback privately to the seller, so they know you liked it, but you're not giving up your privacy. I dunno. I'm still unhappy with etsy on this point, but I think they're committed to this path more than to however many artisans they've pissed off.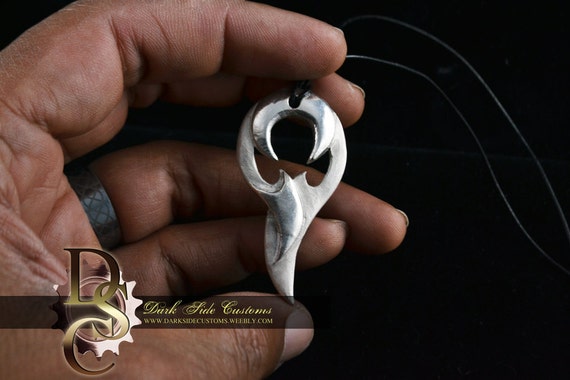 My friends over at
Dark Side Customs
have been rolling out some GREAT new designer pieces with some amazing original flare and artistry. If you're in the greater NYC area, they also show up at a lot of fairs and markets, so you can always try and keep an eye on where to find them locally (bypass all middle-men).
Speaking of gifts - take a tired old cliche of a gift and turn it on its head.
Cyberoptix
is a shop promising you "ties that don't suck." There are quite a few really great designs in both silk and microfiber; not to mention bow ties, because bow ties are cool; and even scarves for the truly tie-phobic.
Me, I just saw Gravity, and the s/o is a big space-guy, so these two pictured below, I think are my current favorites. There are hundreds of entries and variations, though, so go and see for yourself!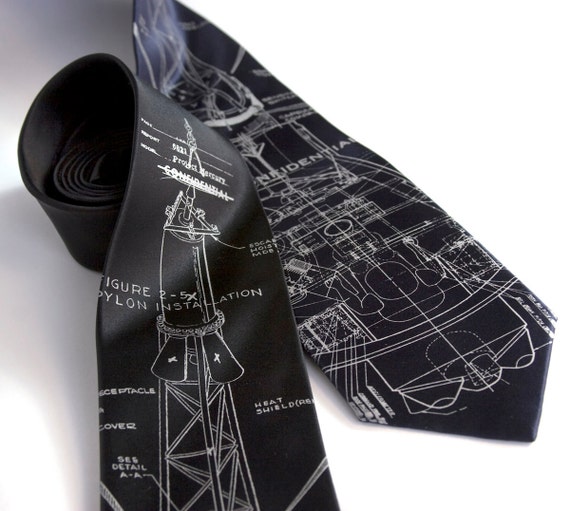 (project Mercury rocket schematic)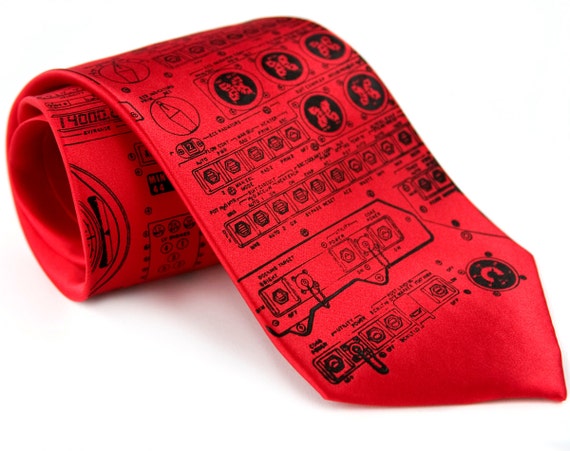 (Apollo cockpit print, in red)