I still had a lot to say after my last post, so I decided to just break it into two posts and schedule it for later.
The thing is, some of you might have noticed, if you've kept up over the way too many chatty and rambling posts I've put up over the years, that certain things are a reoccurring theme at certain times of the year. I've made a few "I Want Magic Socks" posts, and this time, with all this grey and snow, I'm repeating my dreams of Afternoon Tea on a sunny afternoon.
I have become fixated on Afternoon Tea in the garden. I've even made a pinterest board,
I'd Like to be Sociable
, to keep all my Tea Party dreams and wishes. I did some reading up on the differences between Afternoon Tea and High Tea (definitely want to do Afternoon Tea), and about menus and traditional sandwiches and snacks. I even went to the thrift store and bought some plates and tiny candlesticks so I can try and build my own 3-tiered tea stand. (Note - if you're not that crafty, *after* I'd just spent $11 on plates and tea cups, we went to Home Goods (part of the TJ Maxx chain) and found 2-tiered pre-made tea stands with the most lovely patterns for $13. So, there's an option if you're not as far down the DIY rabbit hole).
DIY stands, by the way, are apparently growing popularity on etsy as well. I featured one shop some time ago, but they were in the UK, and shipping can be so expensive for a large item. And, even though I'm kinda DIY, the idea of getting out the power tools on china makes me a bit nervous - but it does look nicer in the end, I think.
Well, I found two shops on etsy that aren't afraid of the drill:
Tea Party by Britgal
and
Haute High Tea
.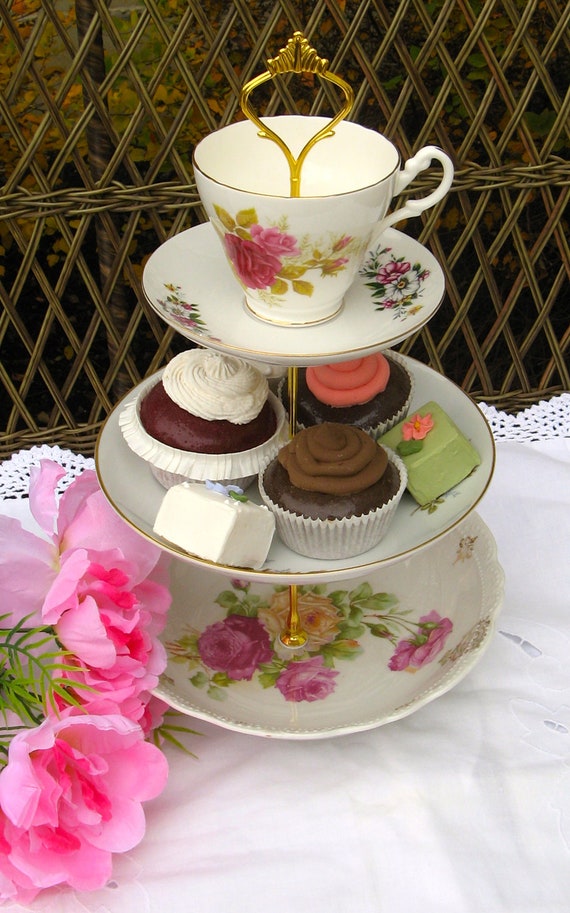 Tea Party by Britgal is the younger of the two shops by a couple of years, and cute cozies and aprons to go along with her tiered stands. The one pictured here at left, is my favorite stand out of her selection. It goes for $55 with a $16 S&H (packed and shipped flat with assembly instructions included).
There is also a mention at the end of each description for custom orders, should you need a specific color spectrum or don't see what you're looking for in her shop.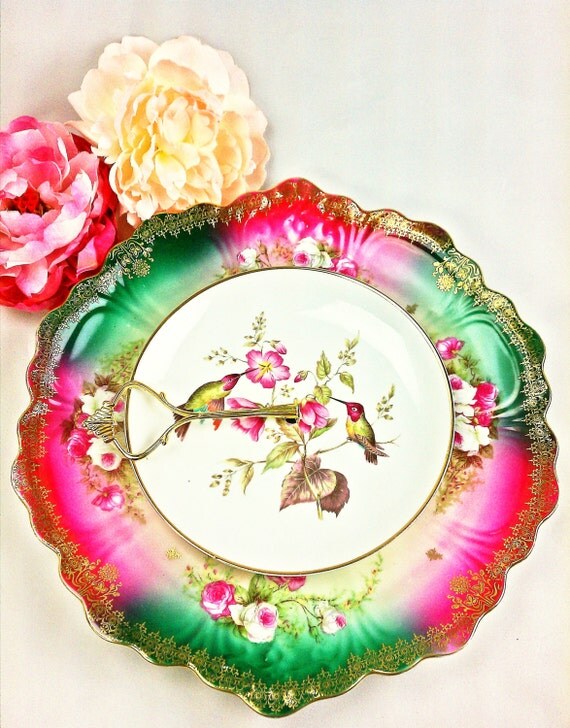 Haute High Tea has a very different kind of aesthetic. The artist shoots for an "Alice in Wonderland meets Marie Antoinette." She pairs off her stands with decorative napkins and bracelets. The price point does seem to be a bit higher, but errs on the side of over-the-top glam and gilt. From her shop, on the right, is shown my favorite of her stands, which sells for $125 + $17 S&H.
As an odd note, the only two US etsy stand crafters I could find (not searching vintage, only searching handmade) are both out of Ohio. Just a coincidence, I suppose.